Luke Foster: Preston boss Graham Westley hails debutant
Last updated on .From the section Football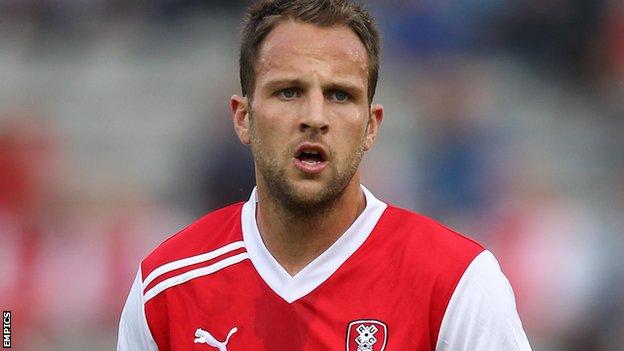 Preston manager Graham Westley says Luke Foster gave an "outstanding" performance on his debut against Bury.
The 27-year-old, who was released by Rotherham in the summer, signed on non-contract terms before the
Westley told BBC Radio Lancashire: "What a debut from the lad.
"He's played for me before and I know that he's a lionheart, who will put his body on the line and will fight with everything that he's got."
Former Oxford centre-back Foster played 23 times for Westley at Stevenage.
After Tuesday's game had finished 3-3 after 90 minutes, North End won 5-4 on penalties to book a northern area semi-final tie with Coventry in January, but Westley said the edge was taken off the victory by Bury's controversial first goal to make it 1-1.
The Shakers failed to return the ball to the visitors after a Preston player had received treatment for an injury, and went on to level the scores.
Westley added: "To do what they did goes against the grain, in terms of everything that football is about.
"Andy Procter goes down because he's been winded at the corner, Thorsten Stuckmann throws the ball out, we let [Bury striker] David Healy have the ball to knock it back to the goalkeeper and he turns and attacks us.
"They win a free-kick and the ball's in the back of our net. I thought it was a disgrace.
"You talk about sport and respect and everything else, and yet we're allowing that sort of situation to go on. It should be looked at strongly and there should be punishments given out for things like that."