Zenit St Petersburg fans are no good and racist - Samba
Last updated on .From the section Football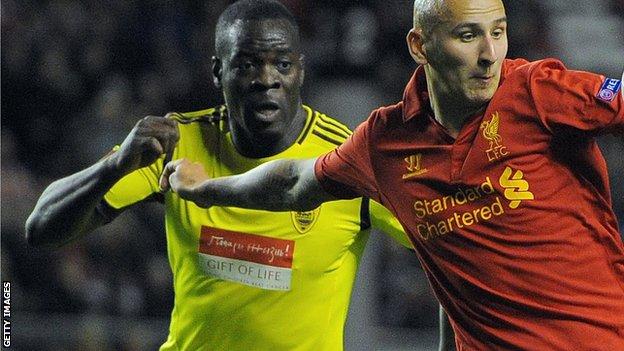 Zenit St Petersburg fans who want non-white and gay players excluded from the Russian team are "living in another century", says Anzhi Makhachkala defender Christopher Samba.
"I'm not surprised. Everybody knows Zenit supporters are no good and racist," Samba told BBC Radio 5 live.
"They are living in another century. It's a sad day for Russian football."
He added: "In this time we have different communities and countries that constitute teams. If they can't accept that then they are never going to progress."
Zenit were the only top-flight Russian team without a black player until the summer signings of Brazil striker Hulk and Belgian midfielder Axel Witsel.
The club was fined by the Russian Football Union after one of their fans offered a banana to Anzhi Makhachkala left-back Roberto Carlos before a match between the two sides in March 2011.
Black players in the Russian league have been the target of monkey chants and Samba also had a banana thrown at him by a Lokomotiv Moscow fan shortly after his move from Blackburn Rovers.
However, the Congo-Brazzaville international insists there is no prospect of black players staging a protest by boycotting matches following Landscrona's open letter.
"Boycotting, why? Because fans make statement they don't want black players. No. Black players should fight for the good ones - not the idiots," he said.
"It's really sad. It's slowing down the process of Russian football being a better league. I hope the Russian federation do the necessary to sanction it."
Raymond Verheijen, a former coach of Zenit, believes there are "serious issues" with racism in Russian football and says action needs to be taken by the sport's governing body.
"If the fans are asking for an all-white team, I'm actually quite shocked to be honest," he said.
"I know, based on my experience with Russian football and Zenit, there are serious issues about racism, so I was already familiar with the problem.
"But if it's true that the fans have asked for this policy then I think its time that the club and the Federation also took some action against these kind of things."
Russia is preparing to host the 2018 World Cup after being picked by governing body Fifa to stage the tournament for the first time.
Samba, 28, believes Russia's continuing problems surrounding racism are "not helping" the country's preparations.
He added: "The fact that a lot of players are going to Russia should be promoted. But if we're not welcome then it would be very difficult to change the mentality ahead of the World Cup."