Oxford United: Lewis unhappy with Kassam Stadium pitch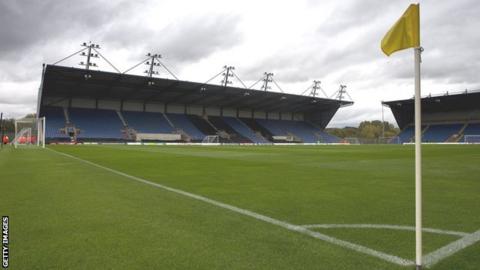 Oxford United assistant Mickey Lewis has criticised the state of the pitch at the Kassam Stadium after their 2-0 FA Cup victory over Accrington Stanley.
The U's advanced through to the third round but lost Adam Chapman through injury and Lewis says that was a direct result of the playing surface.
Oxford share the Kassam Stadium with rugby union side London Welsh, who last played on the pitch on 15 December.
"It is not in a great state at the moment," Lewis told BBC Radio Oxford.
Speaking in July, London Welsh coach Lyn Jones said there would be no issues with a ground-share, saying the pitch could cope.
"Oxford supporters should have no concerns over the standard of the surface," Jones had told BBC Radio Oxford.
"These stadiums nowadays are designed for week-to-week elite sport which they'll have with London Welsh and Oxford," he said.
"The supporters should have no concerns at all. It is Oxford United's pitch and they can do whatever they want with it: all I can do is reassure people that rugby does not damage football pitches.
"You can have a scrum from time to time but supporters should have no concerns over the standard of the surface."
But Lewis says there are concerns about the pitch, especially when players are being injured as a result.
"The condition of the pitch did not make it a pretty game," said Lewis.
"Things are bobbling up around peoples' shins so it makes it difficult.
"Accrington are a footballing team, we want to try and play football and sometimes the pitch takes it out of the equation.
"Also we've lost a player (Adam Chapman) through injury because of that."