Nations Cup 2013: Togo plead for Adebayor to play
Last updated on .From the section Football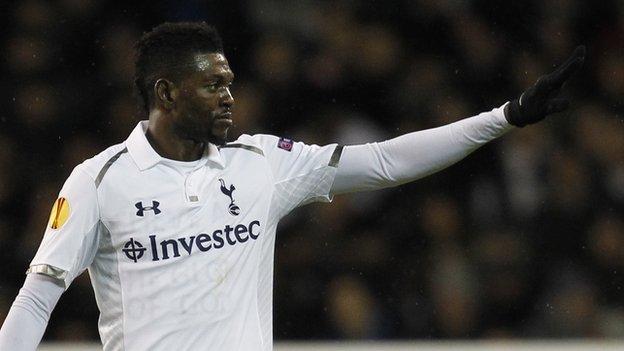 Togo manager Didier Six has pledged to do everything he can to persuade Tottenham's Emmanuel Adebayor to play at next month's Africa Cup of Nations.
The 28-year-old recently put his international career on hold because of a dispute with the Togolese federation over match bonuses.
But Six said: "I am doing everything I can to get him to come back to us.
"He's a world-class player and the Togo national team captain. He is very important to the group."
He added: "I will put all my strength to get him to change his mind but he has the last word.
"This is about more than just him sending a warning to ensure Togolese football moves forward."
Adebayor's public relations officer Amedodji Blaise said earlier this month that the striker was "suspending" his international career and would not play at the tournament in South Africa, which takes place between 19 January and 10 February.
While that decision was a blow to Togo, the news was of benefit to Tottenham, who do not want to lose Adebayor at a crucial stage of the English Premier League season.
Should Togo be successful in changing Adebayor's mind, the player could miss the London club's matches against QPR, Manchester United, Norwich, West Brom and Newcastle,
Togo are at the Nations Cup for the first time since withdrawing from the 2010 tournament in Angola after a terrorist attack on their team bus.
Adebayor retired from the national team after that attack but agreed to return last year and helped the Hawks qualify for South Africa 2013.
"It's clear that we will need Adebayor but don't forget we qualified without him during one of the play-off matches," added Six.