Raymond Verheijen claims FAW have destroyed Speed's 'legacy'
Last updated on .From the section Football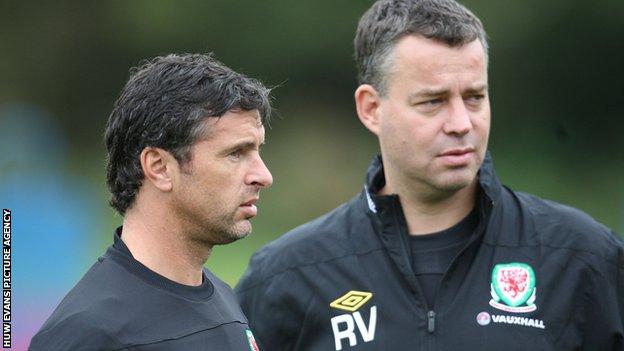 Former Wales assistant manager Raymond Verheijen has accused the Football Association of Wales of destroying the "legacy" left by Gary Speed.
Dutchman Verheijen served under Speed during his 11 months as Wales manager.
He then wanted to manage Wales after Speed's death in November 2011 but was overlooked by the FAW.
"He [Speed] has left a legacy, although the dinosaurs of the Welsh FA, at least on the pitch, have destroyed [it]," claimed Verheijen.
A spokesman for the FAW said they were aware of what Verheijen had said but would not be commenting.
Verheijen, who joined Speed's backroom team in February 2011, has voiced his critical views before.
He caused a storm by resigning as Wales assistant coach on Twitter in February 2012, citing "political and destructive games" as his reason.
Under new manager Chris Coleman, who was appointed as Speed's replacement in January 2012, Wales have lost five of their six matches, including the 6-1 defeat in Serbia.
After losing three of his first four games, Speed found the winning formula as he took Wales from 116th in the world rankings to 48th.
He was appointed manager in December 2010 and the 4-1 friendly win over Norway 11 months later - his final game - represented a third successive win for the Wales team.
On BBC World Service programme World Football, Verheijen, who travels the world giving seminars on fitness techniques, said he believed Welsh football will eventually benefit from Speed's legacy within a decade.
"The legacy of Gary will be in the hearts of his players, of his staff members," he said.
"His [Speed's] players one day will become managers and they will start managing and working based on the inspiration that Gary gave.
"So, I think that within 10 years we will see Gary's legacy at different clubs, at different levels and different countries.
"But for the short time I think with the Welsh national team, unfortunately, his legacy has been destroyed."