Arsenal manager Arsene Wenger defends club board
Last updated on .From the section Football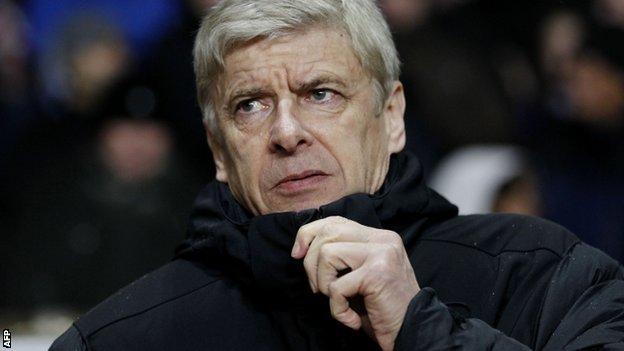 Arsenal manager Arsene Wenger maintains he has always felt fully supported by the club's board.
Usmanov's Red & White Holdings group are not represented on the board.
But Wenger said: "I believe I have always had the support from the board, and am very grateful for that."
This week has seen Jack Wilshere, Alex Oxlade-Chamberlain, Kieran Gibbs, Carl Jenkinson and Aaron Ramsey sign new long-term deals with the Gunners.
Wenger also remains hopeful that England forward Theo Walcott will commit his future to the club, with his current contract set to expire at the end of the season.
However, money available to Wenger for signings and salaries was restricted by Arsenal's move from Highbury to Emirates Stadium in 2006.
But they posted another impressive set of financial results in 2012 and will be boosted by a new £150m sponsorship deal with Emirates Airline.
And the Frenchman believes the club's policy of self-sustainability will pay dividends in the long term.
"We have worked over the years in respecting in what we did, which is to always work within our financial resources," he added.
"Therefore we made decisions which, from outside, looked not based on purely football reasons, but it was based as well on financial reasons."
Wenger also insists that big spending in January will not necessarily be the best thing for the club.
"What is important is this team develops in the way we want to play," he said.
"I have seen some interesting aspects on Monday night at Reading. Let's see how far this team can go. If we can add one or two exceptional players, we will do it.
"What we do not want to do is add players just because people put us under pressure to buy players. That is where we have to be strong enough.
"If we find a player who will give us something special, we will do it - but that, in January, will not be easy.
"I believe as well the first and most important thing is to keep confidence in the players we have."
Usmanov, 59, has an estimated fortune of $18bn and maintains his long-term ambition is to take a controlling interest in Arsenal, but American Stan Kroenke is currently the majority shareholder.
Speaking to CNBC, Usmanov said: "I want to take this opportunity to just reaffirm that in order to help the team, we would be ready to buy more shares, to buy control, to buy all shares.
"We are ready to do all that we can in order to help the company, in order to consider any form of co-operation or ownership with the team.
"If I have a big stake in Arsenal of course I have my opinion what we must do, for example in the commercial side there are many questions over the effectiveness of the commercial side of Arsenal today, but we will see, we will wait and maybe when I wake up some day I have this Arsenal club.
"I always tell Mr Wenger he is one of the best coaches and football managers in the world, but I openly admit he has many, many difficulties to contend with.
"This decision [selling Van Persie] was a mistake. If I am one of Wenger's players, I would want to stay for the finish, but he explained Robin wanted to go to win trophies."