Champions League: Celtic's Neil Lennon eyes repeat against Juve
Last updated on .From the section Football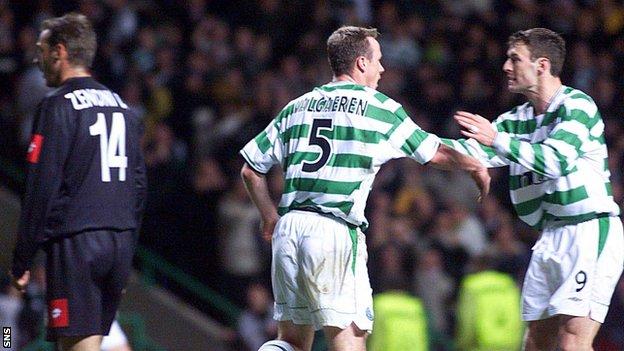 Neil Lennon will relive one of the greatest nights in his playing career when Celtic face Juventus but hopes for a different overall outcome in the Champions League this time.
In 2001, Celtic beat the Italians 4-3 in Glasgow only to fail to progress in the competition from the group stage.
"The 4-3 game was one of the highlights of my career," said the Celtic manager.
"It was one of the great European nights. Hopefully we get more of the same and it goes our way."
Celtic had lost 3-2 in the corresponding fixture in Italy.
"The first game in Turin was our first game in Champions league proper and we didn't play well in the first half," recalled Lennon.
"In the second half, we played brilliantly but got done by a shocking penalty decision and that set the tone for our away performances for quite a while."
Celtic ended a run of 19 away games without a victory in the Champions League group stages by defeating Spartak Moscow 3-2 this season.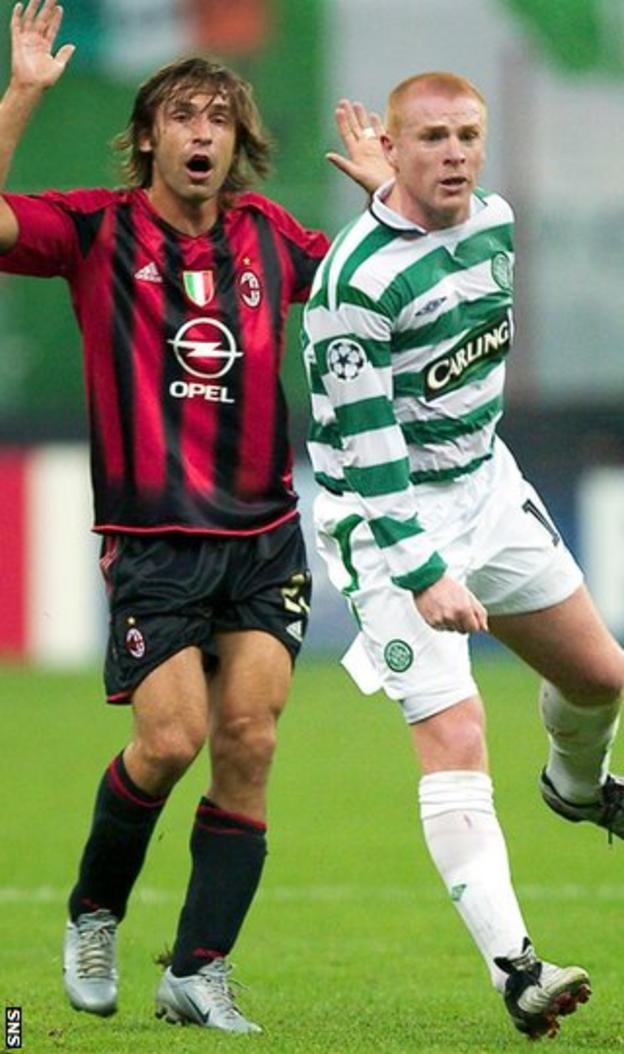 And they went close to holding Barcelona to a draw in the Nou Camp before the tournament favourites' stoppage-time winner on the way to both qualifying from Group G.
But Lennon recognises that the challenge presented by in the last 16 by Juventus, who prevented holders Chelsea qualifying and top their domestic league, will be their toughest challenge yet.
"They topped their group with Chelsea, beat them 3-0 and not many teams do that," he said.
"Their manager has done a wonderful job there, they are very consistent in Serie A and easily the best team in Italy.
"We will really relish the two games. Juventus are right up there and, in terms of glamour, it's as good as you get.
"I don't get excited very often, but I was very excited today. I am very pleased with the draw for pure football reasons."
Lennon vividly remembered his own games against the Italians and, despite their present raft of new talent, several of whom starred for Italy at Euro 2012, picked out old adversary Andrea Pirlo as their greatest threat.
"Eight or nine of them played in the final, but the jewel in the crown would be Pirlo," said the Celtic boss, who nevertheless thought his side who could overcome the odds again.
"I played against him in 2007 and he seems to have got even better since then.
"Celtic Park will be packed to the rafters. The players have had a taste of European football and will be buzzing in anticipation.
"We have been quietly confident all the way through this campaign and there's no reason to change that now."
Celtic captain Scott Brown stressed that the squad had great "faith in ourselves" but was aware of the task ahead.
"Their home record is next to none," he said. "I think they have lost once at home in a year and a half.
"It is going to be hard but exciting as well."
Juve have lost in both of their visits to Celtic Park, their other visit ending in a 1-0 defeat in 1981, when they also won the reverse fixture, 2-0.