Crawley Town: Richard Low to improve business operations
Last updated on .From the section Football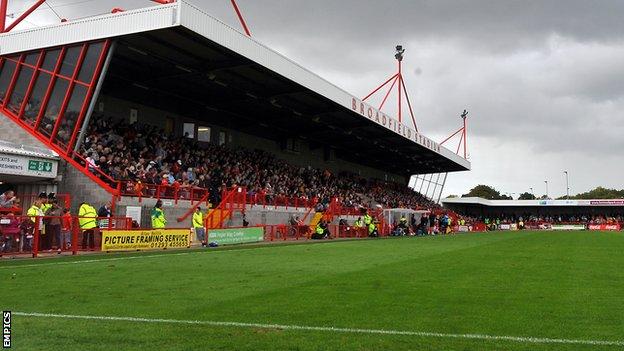 New Crawley Town chief executive Richard Low says his main aim is to improve the club's business operations.
The 44-year-old was appointed to the role this week.
He told BBC Sussex: "If you want to be ambitious and want to get where you want to go, football clubs have to work as a business.
"The club has gone so far so quickly and as hard as everyone here works, I don't think they've been able to keep the business side of things in touch."
Low, who joined the West Sussex outfit after leaving League Two side Aldershot Town last month, says that building attendances at the Broadfield Stadium will be his immediate priority.
The Reds average a gate of just over 3,340 in League One this season following back-to-back promotions.
"The gates are nowhere near what was projected and that is because the team here have not had a chance to work in the community," Low added.
"I have got loads of ideas about growing the gate. It is your biggest revenue stream and [it] is a daily job to deliver that strategy.
"If you put 500 on your average gate it could mean an awful lot of money.
"The other areas are growth over a period of time."
With Crawley currently lying two points off the play-off places in League One, Low says his ultimate goal is to gain promotion to the Championship.
"If we got promoted this year we'd take it with both hands and I do think we've got the personnel here to adapt," he said.
"The sensible thing to do for me is to look at the business and grow the club.
"I believe if we do that we've certainly got the infrastructure to stay there.
"I've submitted a four-year plan to the board but it's not been approved yet.
"I've got to balance the club's ambition with my ambition. That's where I want to go and ultimately where we want to be."