FA set to punish clubs and players for racism offences
By Richard Conway
BBC Sport at Wembley
Last updated on .From the section Football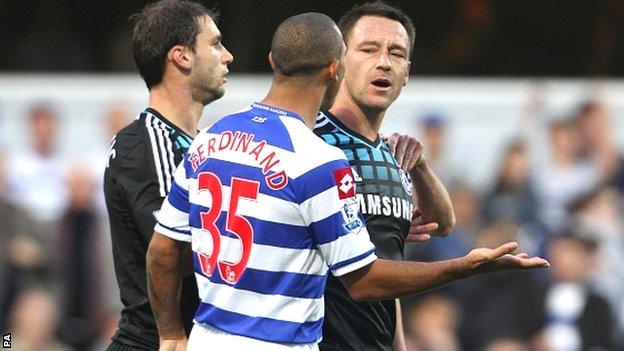 Football Association chairman David Bernstein says a specific sanction for players found guilty of racist abuse is "close" and will be introduced soon.
The FA board has approved and discussions are being held over a minimum game ban for players.
"I think we're getting close to that [making a decision]," said Bernstein.
"That's under active discussion now. This is a live issue and you will see it in the not too distant future."
Bernstein, who will step down as FA chairman in July 2013, also revealed that he had spoken to players, including Rio and Anton Ferdinand, on the issue.
"I've taken it upon myself over the past month to meet with people from the black and ethnic community.
"I've met with Rio and Anton Ferdinand, Jason Roberts, Clark Carlisle, Garth Crooks and a number of others and taken on board the comments and observations and concerns that they had, which are reflected in the papers that we've put out today."
His comments come after Lord Ouseley of the anti-racism campaign group Kick It Out complained that the football authorities had following several high-profile cases of racial abuse, including those involving Liverpool striker and Chelsea captain
Responding to the publication of the action plan, Secretary of State for Culture, Media and Sport Maria Miller said: "We welcome the action plan from the football authorities setting out a way forward to tackle discrimination within the game.
"While we have made significant progress in this area over the last two decades, recent incidents have shown a need for concerted action.
"We want to see this action plan implemented and the football authorities to show strong leadership on anti-discrimination at both the professional and grassroots levels of the game."
Bernstein also revealed that The FA's secretary-general Alex Horne met with Uefa president Michel Platini this week and discussed the recent following the scenes of racial abuse and violence at the end of the England Under-21 game against Serbia in Krusevac in October.
"He [Platini] is concerned about it, for sure," said Bernstein. "What action they're going to take, whether there will be an appeal by Uefa against that sentence, which to us was dramatically lenient, we'll have to see."
As revealed by BBC Sport last week, the also calls for "mandatory induction arrangements for players and managers arriving fresh to English football and the British cultural environment."
The wide-ranging document also seeks to tackle the issue of players using social media platforms such as Twitter and Facebook.
Specifically, it calls on the Government to legislate to ensure "greater responsibility is taken by social media companies to monitor and take action when their platforms are used inappropriately."
Sue Law, the FA's head of equality, believes that not enough is being done by companies who operate social media platforms.
"We're having to deal with the output in terms of the way those platforms are used on football and we're charging [players] on a far too frequent basis," she said. "There's not enough monitoring done of the language and behaviour on those sites."
The action plan also focuses on issues of inclusion and Bernstein is confident that, as in cricket and rugby, professional footballers will soon feel able to come out as being gay.
"I'm sure we will. It's a matter of when and how," he explained. "The word 'confidence' keeps coming up in these conversations - the confidence of people to believe the reception they'll get when they take that sort of action will be positive."
Bernstein is also confident the new document will show supporters that the football authorities are getting tough on discrimination within the game.
"I'd like supporters to read what we've published," he said. "We believe that football in general and the wider stakeholders are all behind this and are all supportive. I think we should be very encouraged."