Aberdeen: Manager Craig Brown not eyeing Pittodrie exit
Last updated on .From the section Football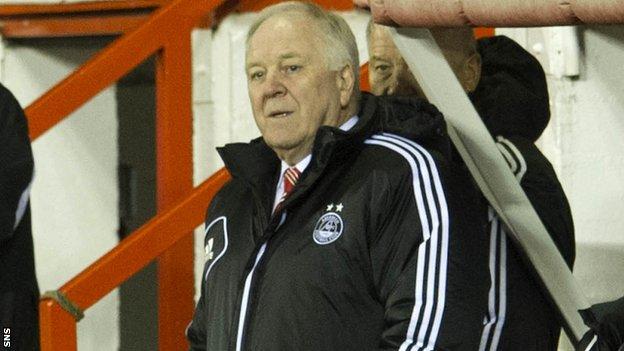 Aberdeen manager Craig Brown says he has no thoughts of retiring and dismisses suggestions that he has to prove he deserves a new contract.
The 72-year-old was annoyed at some media interpretations of chairman Stewart Milne's comments at the club's annual meeting this week.
"I don't see it that way at all," he said of suggestions that Milne wanted Brown to prove his worth.
"They know whether I'm hopeless or any good."
Brown believes it is too early to start worrying about whether he will be given a new contract beyond the summer.
"That decision doesn't need to be made at the moment," he said.
"It's not as if there someone coming in from Barcelona looking to take me away and they have to tie me up.
"They know I'm here happily. If they want me to stay, great. If they don't want me to stay, I accept that.
"The chairman said we haven't discussed it and that's true. I don't concern myself with that until the end of the season."
Brown repeated veteran Manchester United manager Sir Alex Ferguson's quote about being "too old to retire" because he had no other job to go to.
"I don't feel that ageism should come into it," said the Dons boss, stressing that he was already planning for next season.
"I am a permanent adolescent and I love football, I love the game, I love my job and I love this football club.
"I hope that transmitted to the players and the support."
Brown put a recent downturn in results down to a lengthy injury list and said that he could put a strong case for his record at Pittodrie if required.
"We're the only team, for example, who've been in three semi-finals in the last two years - only Celtic have done that," he said.
"We came from the very bottom of the league to where we are now and we've never been at the very bottom since.
"The wage bill is less, we've got money for five players - there's not been another SPL club got money for five players."