Champions League: How British clubs torture Bayern Munich
By Raphael Honigstein
German football expert
Last updated on .From the section Football152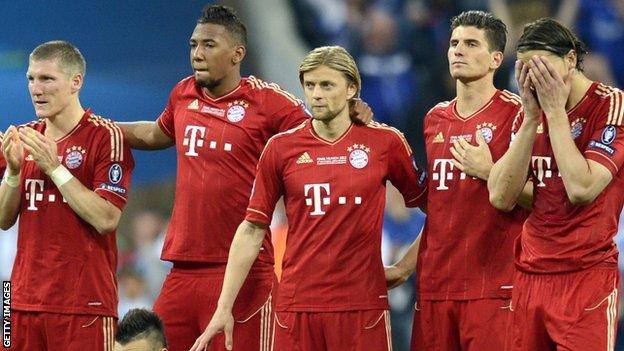 After Arsenal drew Bayern Munich in the Champions League last 16, German football expert Raphael Honigstein explores Bayern's fraught past against British clubs.
You'll be hard-pressed to find a bigger fan of English football than Bayern Munich president Uli Hoeness.
"I'm fascinated by it," he told the BBC over dinner 11 months ago, with genuine, wide-eyed enthusiasm. The 60-year-old will spend a significant part of his holidays watching the relentless Premier League action over Christmas.
He'll use the upcoming to stock up on a couple of striped shirts from one of London's swankier shops. That has become a bit of tradition for him over the years.
As general manager of Bayern, he signed Mark Hughes on loan from Barcelona in 1987, and Scotland's Alan McInally from Aston Villa two years later.
McInally remembers being promised "an extra two hundred Deutschmarks or so" by Hoeness for every headed goal he could muster. "Hoeness loved headers," the former Celtic striker remembered.
When Chelsea's Didier Drogba destroyed Bayern with a serious of pin-point knock-downs in a 4-2 quarter-final defeat at Stamford Bridge in 2005, Hoeness left the stadium bitterly disappointed but deeply impressed, muttering about "the best striker I've seen in ages".
His fascination seems a little hard to understand if you consider Bayern's fraught British past.
There was Norwich's shock two-legged victory over the Germans in the 1993 Uefa Cup, famous for Jeremy Goss's volley in the Olympic Stadium.
But before that, the former World Cup-winner was a helpless spectator on the bench alongside various Bayern coaches when the Bavarians drew the short straw against British opposition five years running from 1981-1985.
Liverpool knocked them out of the European Cup; Aberdeen and Everton out of the Cup Winners' Cup, while Tottenham beat them in the Uefa Cup.
The worst defeat of all in that era, however, was the 1-0 loss to Aston Villa in the European Cup final in 1982; the first of a hat-trick of traumatic final disappointments against English sides.
After 1999 in Barcelona against Manchester United and 2012 in Munich versus Chelsea, one could have forgiven Hoeness for falling out of love with the football of his chief tormentors. But it hasn't happened - yet.
It's fair to say that Bayern on the whole aren't overtly troubled by their historic failings. They prefer to remember their positive record against the north Londoners. They drew 2-2 at Highbury and beat them 1-0 in the Olympic stadium on their way to the 2001 Champions League triumph, and won 3-1 at home and lost 1-0 at Highbury in 2005 to make it to the Champions League quarter-finals.
Everyone seems to be looking forward to renewing acquaintances in two months.
"It's a nice draw against interesting opponents who are not impossible to overcome," said midfielder Thomas Mueller, summing up the consensus. "I'm happy to be playing a game in London for the first time and especially about meeting the two Germans Per (Mertesacker) and Poldi [Lukas Podolski].
Mueller, 23, had fielded some interest from the Gunners in the summer but this week decided to renew his contract at the Allianz Arena until 2017.
"We know Arsenal well," added CEO Karl-Heinz Rummenigge. "We can be satisfied with this draw but can't underestimate them. It's important to try to get a good result in London; to get a goal and make a bit of a statement. We can do it, we're going into this tie as favourites".
Germany midfielder Bastian Schweinsteiger and Peru striker Claudio Pizarro are the only survivors from the two club's last meeting in 2005.
"I remember playing at Highbury," said Schweinsteiger, "1-0, a goal by Thierry Henry. I'd be happy if he was involved again."
Whether the Frenchman will come back on loan from New York Red Bulls for a third spell at Arsenal remains to be seen but Podolski's return to Munich will excite the German public.
The forward's fortunes at his new club have been closely followed at home and there's a sense that the 27-year-old has a point to prove against the club where he endured an unhappy spell on the margins of Bayern's first team from 2006 to 2009.
There could be an even more interesting subplot as well. By the time European football resumes, Bayern hope to know where they stand in relation to their pursuit of manager Pep Guardiola. An evasive or negative reply will force them to weigh up the option of sticking with Jupp Heynckes, 67, for another year.
But the outcome of the tie with Arsenal will have a direct impact on these plans. A defeat at this early stage makes the continued employment of Heynckes a lot less likely - Hoeness and Bayern are notoriously unforgiving - while a win could possibly free up another enticing option: Munich are long-term admirers of Arsenal manager Arsene Wenger - and came close to giving him the job in the mid-90s.
Could eliminating the Gunners give Bayern a chance to try again?