End of a long and winding road for Singapore's Aleksandar Duric
Last updated on .From the section Football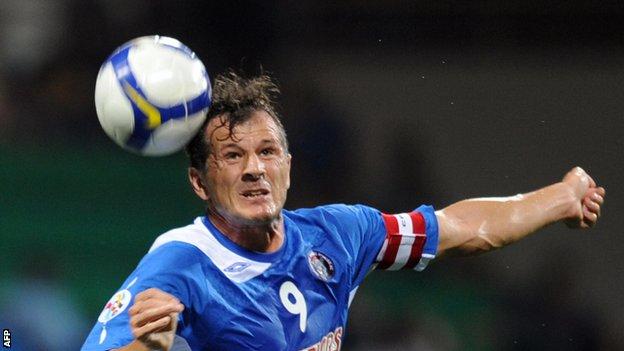 What motivates a footballer? Money? Glory? A fear of the alternative?
For Aleksandar Duric, it's purely a love of the game.
On Saturday, after making his international debut at 37, Duric will play his last match for Singapore at the age of 42 when they face Thailand in the second leg of the Suzuki Cup final, having won the first leg 3-1.
In a varied career, Duric has plundered 478 goals from 574 matches. On three separate occasions, he has ended a spell with a club with more goals than appearances.
But while, at 39 and 38 respectively, the likes of Ryan Giggs and Paul Scholes continue to play at the highest level in England, Duric has been plying his career in Singapore's S-League.
"I love to be involved in football, I love to play every game, I love to train," he told the BBC's World Football programme.
"But as much as they say the S-League is not that high a level of football, still at this age I'm getting called up for the national team. This shows there's still something good in me."
Twenty years ago, Duric's sporting journey began with him sticking out his thumb by a roadside in Hungary.
He was born in the former Yugoslavia, in the same town as Manchester City striker Edin Dzeko.
But after failing to find his footballing fortune in Sweden, he returned home only to find that the Balkan war had started and his Yugoslav passport had become invalid.
Stateless and almost penniless, he was forced to remain in Hungary.
It was there that he received a letter from the newly-formed Bosnian Olympic Committee. As a junior champion in kayaking, he was asked whether he would represent the country at the 1992 Olympics.
He accepted and began to make a one-and-a-half day trek from the Balkans to Barcelona.
"The other sportsmen flew from their countries to Barcelona but my journey was a bit different," he said. "I tried to hitch-hike."
The trip did not go according to plan.
After being dropped at the Austrian border by one truck driver, Duric was denied entry by immigration police who did no believe he was an Olympian attempting to get to Barcelona.
They thought he was a refugee seeking safety in their country.
Duric eventually convinced them he really was going to compete in the 1992 Games and made it to Barcelona by a combination of road and air to became one of Bosnia's 10 Olympic pioneers.
He then resumed his football career, firstly in Australia and then in Singapore in 2001.
Two months after he received his Singaporean citizenship, he received a call-up to the national team for a World Cup qualifier against Tajikistan.
"I was really nervous, it doesn't matter that I was 37. I scored two goals, we won 2-0 and I will remember that for the rest of my life."
But is Duric retiring too soon?
After all, Ahmed Abdi Robleh, 45, and Terrence Jones, 44, are still going strong for Djibuti and the US Virgin Islands respectively.
"Good luck to these players but my time, I think, is over," said Duric.