Nicolas Anelka: QPR boss Harry Redknapp keen to sign striker
Last updated on .From the section Football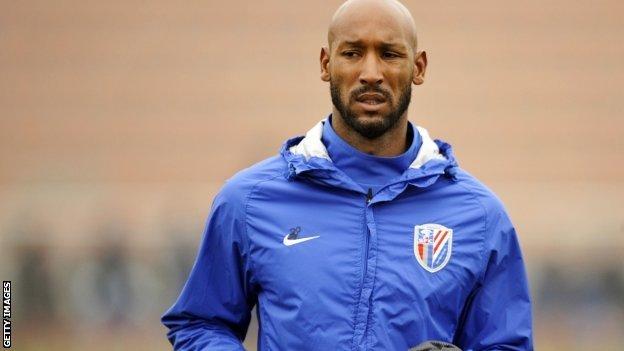 QPR manager Harry Redknapp is interested in signing Nicolas Anelka but is concerned that the club may not be able to afford the striker.
Anelka, 33, left Chelsea last January to join Shanghai Shenhua but looks set to leave the Chinese outfit following a pay dispute.
"I think he is finishing in China so he is available," said Redknapp.
"He is a top player so we would be interested, but whether we could afford to get anywhere near him I'm not sure."
Anelka joined Shenhua on a two-year deal and scored only three goals in 22 games as the team finished ninth in the 16-team Chinese Super League.
He also spent some time as player-coach after Jean Tigana was sacked until Argentina's Sergio Batista was brought in.
Redknapp added: "It is what you can do, whether you can afford these players, what they are looking for, whether they are reasonable, whether you can deal with them and most importantly whether you think they can do the job you want.
"I think the chairman knows Nicolas's people and that so has got a few details on what it would be.
"It depends, just how expensive the whole package comes to. If it is within reason, he is a player that could certainly improve your team."
Anelka has played for Arsenal, Real Madrid, Paris St Germain, Liverpool, Manchester City, Fenerbahce, Bolton and Chelsea during a nomadic career that has seen him transferred for a total of around £86.8m.