Man Utd v Real Madrid: Cristiano Ronaldo will not celebrate goals
Last updated on .From the section Football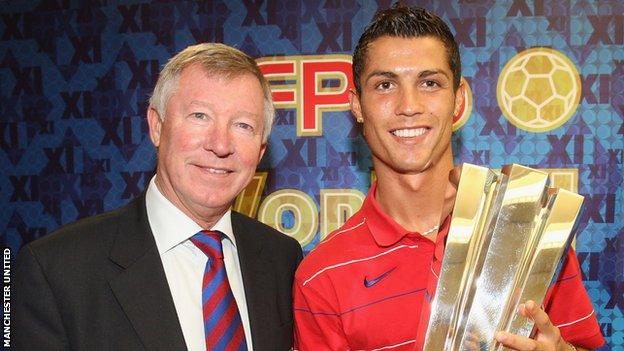 Real Madrid forward Cristiano Ronaldo says he will not celebrate if he scores against Manchester United.
United will face Madrid in the last 16 of the Champions League at the Bernabeu on 13 February and then at Old Trafford on 5 March following Thursday's draw.
"I won't celebrate if I score," Ronaldo, who spent six years with the Reds, told Spanish newspaper AS.
"It is thanks to Manchester United that I play for Real Madrid. Without them, I wouldn't be the player I am today."
The draw means Ronaldo, 27, will visit Old Trafford for the first time since his £80m move to Spain in June 2009.
Ronaldo joined United from Sporting Lisbon in 2003 and went on to win three Premier League titles, the Champions League, the FA Cup and two League Cups during his spell in England.
"I still speak with [United manager] Sir Alex Ferguson. I miss him a lot, and I miss Manchester United," added Ronaldo.
"I felt very good there, it was like a family. I had six great years there and am still friends with my team-mates."
United boss Ferguson is convinced Ronaldo's stellar spell would see him cheered by supporters, despite the fact that Ronaldo had long agitated for a move to the Bernabeu while at the club.
"He will get a great reception when he comes onto the pitch at Old Trafford, quite rightly," said Ferguson "After that they [the supporters] can boo him as much as they like.
"We are proud of the part we played in his career. We did very well to get six years out of a boy when he came to us at the age of 17."
He added: "He always had a hankering to go to Real Madrid at some point in his career. It wasn't disloyalty. I got another year out of him when he wanted go the previous year.
"My way of looking at it was that we were lucky to have him for six years. The United fans would share that."
Ronaldo's record with of 118 goals in 292 appearances has seen him considered one of the best buys of Ferguson's 26-year spell with United, a view that Scot was happy to agree with.
"I have been very fortunate to have had [Paul] Scholes and [Ryan] Giggs and Eric Cantona, who were all fantastic players," the 70-year-old said. "He is certainly in that bracket."