Kilmarnock's Manuel Pascali is backing Celtic against Juventus
Last updated on .From the section Football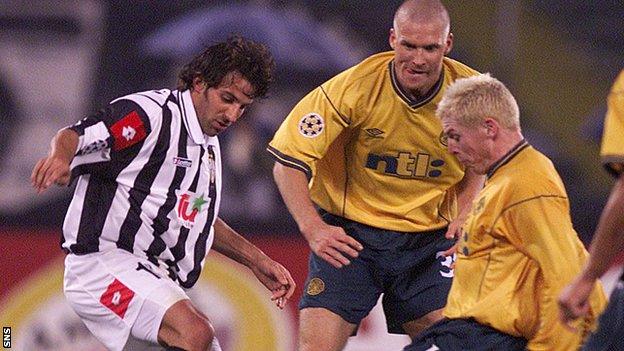 Kilmarnock captain Manuel Pascali admits he will be a temporary Celtic fan when they face Juventus in the last 16 of the Champions League.
Pascali is Milan-born and his loyalties are tied firmly to that Italian city.
"I supported, and still support, Inter Milan and we all support everyone who's playing against Juve," he told BBC Scotland. "Maybe I hate them more than AC Milan.
"So, for that day, I'm going to support Celtic."
Celtic were paired with the team known as "The Old Lady" of Italian football in Thursday's Champions League draw in Nyon.
The Turin side are the current Serie A champions after marching to the title unbeaten in 38 league matches.
"They've been in Serie B a few years ago," said Pascali.
"A few of the players played in Serie B and they know how they worked hard to be in the position they are now.
"They are playing with passion and aggression.
"From my Italian side, I want Juventus to progress, but from my Inter side, I want them to get beaten.
"I'm going to try my best to find tickets to go and watch them because I think they are a fantastic team - they're doing very, very well."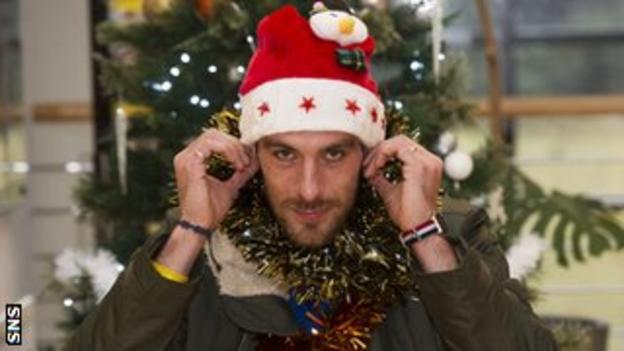 In October, defender Pascali, who arrived at Rugby Park from Parma in 2008, was part of the Kilmarnock team that won at Celtic Park for the first time since 1955.
He reckons a tie with Celtic is something the Juventus players will relish.
"All the players will be happy to play in such a great venue and I think Celtic Park during Champions League is always offering the best," said Pascali, recalling the words of former Juve striker Alessandro Del Piero.
"Del Piero in the past said it was one of the best stadium's he'd played in on the Champions League nights.
The first leg in Glasgow will be played on Tuesday 12 February, with the return game on 6 March.
Pascali believes Juventus will have a serious contest on their hands.
"It's going to be very, very hard against Celtic," he said.
"Celtic proved to everybody that they can beat the best because they beat Barcelona.
"I'm pretty curious to see what's going to happen.
"I wish Celtic all the best for Scottish football because having another team in the last 16 of Europe is a fantastic achievement for all the Scottish Premier League."