St Johnstone: Manager Steve Lomas hopes for trouble-free 2013
Last updated on .From the section Football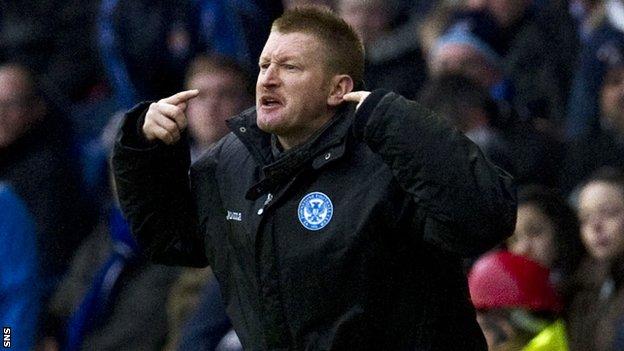 St Johnstone manager Steve Lomas says he has learned his lesson and is hoping for a trouble-free 2013 after escaping his latest disciplinary charge.
A Scottish Football Association judicial panel this week.
"I realise my card has been marked and I am treading a fine line," he said.
"So I will be taking a look at myself and hopefully the rest of the season is incident free."
The panel decided that a warning would suffice after Lomas was found guilty of misconduct for being sent to the stand against Hibernian on 28 November.
But the Northern Irishman did not think that kicking a water bottle carrier after Nigel Hasselbaink missed a late penalty in his side's 1-0 home defeat merited further punishment.
"I got a fair hearing and the panel recognised the water bottle was about pure frustration and not malice and I think common sense prevailed," he said.
"There was really only one charge I believe amounted to anything and that was foul and abusive language at the Celtic game - and I apologised for that.
"I stand by what I said after the Ross County game and, kicking a water battle when your team has missed a penalty, it's not the biggest crime is it?"
after being sent to the stand during his side's 1-1 draw with Celtic, an offence that also sparked a further two-match punishment that had been suspended after he labelled Ross County midfielder Richard Brittain a cheat.
However, the former Manchester City and West Ham midfielder has already served three matches of his ban and is due to return to the technical area when Celtic visit McDiarmid Park on 26 January.
And he hopes to retain his touchline passion.
"I do believe you don't want to take the passion out of the game," he added.
"I'm a passionate guy, but I am also an honest guy."