Thousands attend Ndlovu burial
By Steve Vickers
BBC Sport, Bulawayo
Last updated on .From the section Football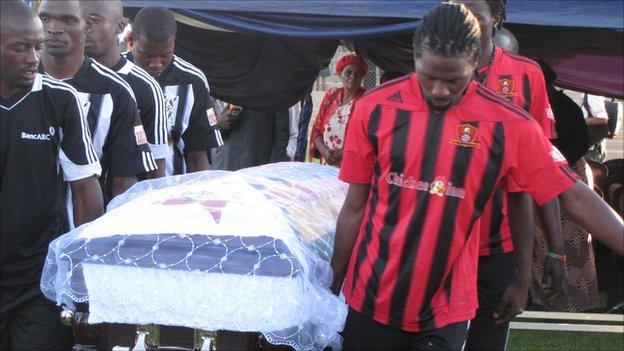 Thousands of fans, players, politicians and sports administrators attended the funeral of Zimbabwe legend Adam Ndlovu in Bulawayo on Saturday.
Adam, 42, died in a car accident last Sunday which left his younger brother Peter in a critical condition.
Peter, who is now in a stable condition, was released from hospital for the funeral and attended in a wheelchair with nurses by his side.
Adam played in Switzerland for seven seasons and scored 34 goals for Zimbabwe.
A host of Zimbabwean football legends, including former Warriors captain Benjani Mwaruwari, were at the funeral, along with senior figures from all three main political parties.
"Adam was a legend and he united the country through football," said Prime Minister Morgan Tsvangirai, who attended the wake on Friday.
Many others paid tribute to Adam, who had just completed his first full season as a coach, taking Bulawayo side Chicken Inn to a third-place finish in the Premier League.
"He was like a brother to me, it's big loss for me and it pains me to be here," said former Zimbabwe defender Harlington Shereni, who played alongside Adam at Delemont in Switzerland.
"He introduced me to European football, he was the star of the team at Delemont and he was always there to help me."
There had been calls from some quarters for Adam to be declared a national hero, although government insisted that hero status is only for those with a liberation war history.
Sports minister David Coltart said that more should be done to mark the achievements of distinguished sports stars.
"I believe that we do not adequately honour our sporting and cultural heroes in Zimbabwe," said Mr Coltart.
"They often do more than politicians to boost our spirits and image of the country."