Keshi not 'bothered' by Odemwingie outburst
Last updated on .From the section Football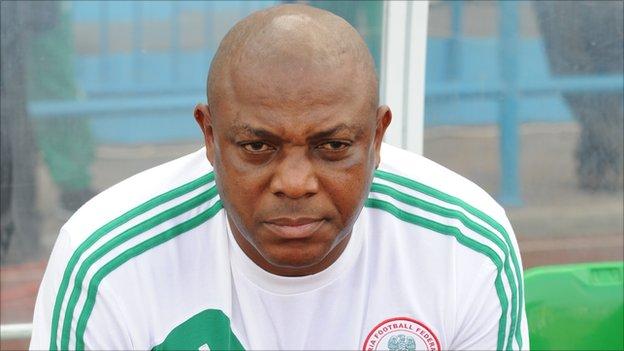 Nigeria coach Stephen Keshi says there is "nothing personal" about his decision to leave Peter Odemwingie from his Africa Cup of Nations squad.
Odemwingie last played for the Super Eagles in February's goalless draw with Rwanda in a Cup of Nations qualifier.
In angry outburst on Twitter, the 31-year-old claimed he was dropped because he often speaks his mind.
But Keshi told the BBC World Service on Monday that he is not bothered by Odemwingie's reaction.
"I don't even have a Facebook or Twitter account so it doesn't bother me at all," said the former Nigeria international.
"There's nothing personal about this stuff. Odemwingie is a very good player but right now I don't need him.
"He's a professional and he should be able to accept that.
"Nigeria is blessed with a lot of good players and we cannot invite every player.
"We're not in a war with anybody, we're just trying to do our job."
Odemwingie, who played at the 2004, 2006, 2008 and 2010 Nations Cups, had accused Keshi of disrespect by not informing him personally of his decision.
"Every manager has got his own plans and tactics - if I don't figure in your plans, please be honest to tell me directly.
"For 10 years I gave my all to the country as a player on the pitch, played for the nation and fans, not individuals.
Odemwingie, who was born in Uzbekistan where his Nigerian father was based, said that he was a marked man in Keshi and the federation's eyes because he was too blunt in what he said about the state of Nigerian football.
"Because I speak out when things are not right, I guess some people are not just comfortable with that openness."
But he added that he will not completely shut the door on his international career.
"If the chance to play for my country presents itself, then I will speak to my dad and those close to me - then we'll see."
The Super Eagles begin their Cup of Nations campaign against Burkina Faso on 21 January, before facing Zambia and Ethiopia in Group C.