Robin van Persie: Ashley Williams defended by Roberto Martinez
Last updated on .From the section Football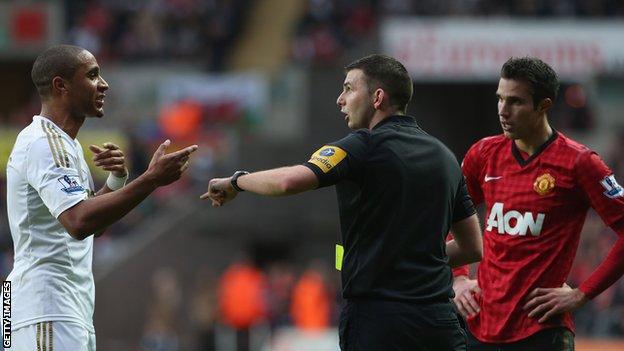 Wigan boss Roberto Martinez says Ashley Williams is not a "nasty footballer" after the Swansea player was criticised for kicking the ball at Manchester United striker Robin van Persie's head.
United boss Sir Alex Ferguson said Van Persie was "lucky to be alive" and called for Williams to be banned.
But Martinez, who signed Williams when in charge of Swansea in 2008, believes Sunday's incident was not deliberate.
"I can guarantee you he is not the type who would do that on purpose," he said.
Van Persie was lying on the ground when defender Williams kicked the ball from a couple of yards away as referee Michael Oliver blew the whistle for a foul.
Ferguson said Van Persie "could have been killed" and labelled Williams "disgraceful" after the 1-1 draw.
"Robin van Persie is lucky to be alive. He (Williams) should be banned by the FA. Robin could have had a broken neck," he added.
Martinez signed Williams from Stockport County after a successful loan spell.
The Spaniard admitted the incident was a "dangerous situation" and the player had shown frustration but he does not believe Williams would be so malicious.
"It is an emotional game and it is very unfortunate that it hits Van Persie in a part of the body where he could have been hurt heavily, and you don't want to see that," he added.
"If you see one of your players with a bang on the back of the head it is really dangerous and it can have bad consequences. You can understand that.
"But from my point of view, I signed Ashley Williams for Swansea and I know his character inside out.
"I can guarantee you without even looking at the incident that he is not a nasty footballer.
"He is a winner and fully committed, a leader and a captain, and I don't for one second doubt that he did not do that on purpose."
Williams, 28, insisted after the game he did not deliberately kick the ball into Van Persie's head.
"I just kicked the ball in frustration and obviously not trying to hit him square on the head," he added. "Everyone's going to have their own opinion but from my point of view I tried to apologise on the pitch but it all flared up."
Brendan Rodgers, who was Williams' manager at Swansea until he left to take charge of Liverpool in the summer, said he felt the issue had been blown out of proportion.
"When you slow it down and look at it 20 times it does not look good for Ashley," he said. "But I know the player well and it is just that split-second when you can see he is trying to clear the ball and unfortunately hits Van Persie right on the back of his head.
"Of course, it looks dangerous but knowing Ashley he won't have meant it, knowing his character that won't have been intentional."
QPR boss Harry Redknapp, speaking ahead of his side's Boxing Day clash with West Bromwich Albion, said of the incident: "I don't see how he was going to be killed.
"He kicked the ball at him. I have seen worse things on a football pitch."
However, Newcastle manager Alan Pardew, whose side face Manchester United at Old Trafford on Boxing Day, said he understood Ferguson's reaction but that the Red Devils boss might not be so angry with hindsight.
"If one of your players gets hurt or you think he was in danger, you are going to protect him," said Pardew.
"I think the one with Van Persie was perhaps not as bad as Alex at first imagined. Sometimes from the sideline, it looks a lot worse at the time."