Harry Redknapp plays down his comments on QPR players
Last updated on .From the section Football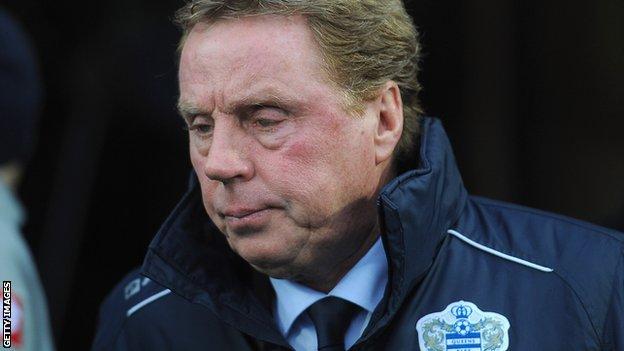 QPR boss Harry Redknapp has played down the comments he made following Saturday's defeat at Newcastle.
But speaking before the Boxing Day game against West Brom, he said: "I wasn't being critical of all the players.
"Most of the lads here have been top class and I still feel we can get out of trouble."
Redknapp, whose side lie five points from Premier League safety, added: "It'll be hard but I still believe we can do it."
The former Tottenham, West Ham and Portsmouth boss took over at Loftus Road after Mark Hughes was sacked in November.
Redknapp had won one and drawn three of his four games in charge before Saturday's defeat at St James' Park, after which he said: "There are a lot of players at this club who earn far too much money."
But on Monday he played down the remarks, saying: "I wasn't talking about all the players, I was talking about certain players I felt were earning and hadn't given value."
"It's just I feel one or two have let us down in the last couple of weeks. I've seen one or two incidents that have disturbed me. That's why I brought that up. It disturbs me when a player doesn't want to sit on the bench when you're bang in trouble."
Redknapp, 65, was referring to Portuguese full-back Jose Bosingwa, who has been fined two weeks wages for refusing to sit on the bench for the 2-1 victory over Fulham on 15 December.
The 30-year-old, who was part of the Chelsea squad that won the Champions League last season, has started only 12 Premier League matches for Rangers since joining in the summer.
Redknapp continued: "The owners, the fans, the most important people, see their team losing every week and suddenly you get someone who won't sit on the bench.
"He said he doesn't sit on the bench because he thinks he's too good to sit on the bench. That's what disturbs me in this game."