Off The Bawl - 22 December
By Tam Cowan
Off the Ball presenter
Last updated on .From the section Football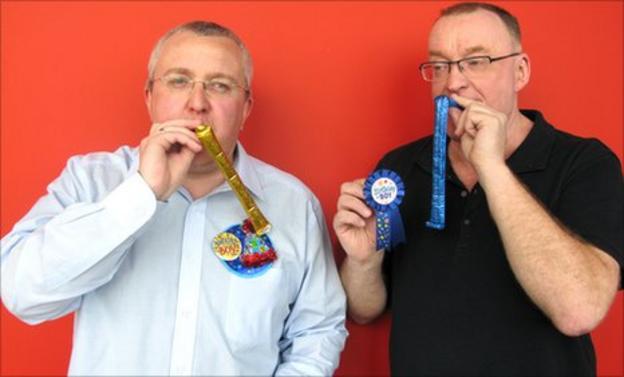 Festive greeeeeetings!!! And welcome to an Off The Bawl stocking-filler that's packed with the very best texts and emails from the recent Christmas editions of the show.
Thankfully, the Mayans (aka Jim Traynor, Stewart Regan, Chick Young, etc, etc) got it wrong - Armageddon was a load of baubles. Or was it?
As Benny McCann from Glasgow emailed on Saturday: "I can exclusively reveal the world DID end on December the 21st. However, God transferred the assets to a new planet that is going to continue under the name The Earth with 2,012 years of unbroken history. Earth then, Earth now, Earth forever."
We were joined in the studio by Rangers legend Derek Johnstone - so who's the DJ you'll never forget?
Gillian in Glasgow said: "I'll never forget George Duffus, the Radio Tay stalwart. Legend has it that, on one occasion, he was reading out a dedication to a listener's granny who was 111. Turns out she was actually ill."
Big Derek told us he once scored 13 goals in a schoolboy game. So, if two's a brace and three's a hat-trick, what's the name for 13 goals?
Davie in Motherwell said: "Thirteen goals in one game seems like utter fantasy, so perhaps we should call it a Gordon Ramsay."
Linda in Dunbar said: "I think 13 goals should be called a Joe Baker's dozen."
Team of the Week
The Christmas Day XI
Manager: Dick Advocaat
Chief executive: Lex Gold, Frankincense and Myrrh
1/ Stefan Claus
2/ Evander Snow
3/ A David Partridge In A Pear Tree
4/ Gordon McQueen's Speech
5/ Tommy Five Gold Rings
6/ Marvin Andrews Liver Salts
7/ Peter Beardsleigh
8/ Three Hamish French Hens
9/ Rudolph Skacel
10/ Brussel Chipolatapy
11/ Christiano Ronaldho-ho-ho!
Subs: Alan Rough, Ruud Van Mistletoe, Cranberry Ferguson.
Meanwhile, on the previous show, we were joined by Professor Pat Nevin - the antidote to thick footballers.
But what's your favourite gag about a cerebrally-challenged player?
On his first Scotland trip, Ian Ferguson was out with Richard Gough. Feeling peckish, they stopped at a cafe and Gough just asked for a cappuchino. Fergie said: "Aye, I'll have a plate of that as well..." (Paddy the taxi-driver)
What do you do if David Beckham throws a pin at you? Run like the clappers - he's got a grenade in his mouth! (Alan in Inverness)
When Kris Boyd was at Kilmarnock (and this is apparently a true story once told by Billy Brown), he was at the team hotel when an item came on the news about the high price of oil. Kris said: "Just think, the guy who invented oil must be loaded." (Mick in Irvine)
When Berti Vogts was appointed, Barry Ferguson was very worried to hear the new Scotland boss was a disciplinarian - as he had no idea where Disciplinaria was... (Paula in Perth)
St.Johnstone boss Steve Lomas once said: "Germany are a very difficult team to play - they had 11 internationalists out there today." (Anon)
Joe Miller was out in Glasgow one night trying to impress a girl and he ordered a bottle of Chateauneuf du Pape. "Would you like to taste it?" asked the wine waiter. "Naw, you're awright," replied Joe, "I've hud it before." (Anon)
Our Team of the Week on that show was...
The Florist XI (aka Interflora Milan or Wreath Rovers)
Manager: Marcello Tulippi
1/ Petal Cech
2/ Davie Hay Fever
3/ Tommy Ring-a-Ring-a-Roses
4/ Pollen Hendry
5/ Jaap Stem
6/ Kevin Twaddle (lost a fortune at the 'bouquets'...)
7/ Posey Quitongo
8/ Stamen Bannon
9/ David Goodlily
10/ Danny Blanchflower
11/ Daisy Cooper
Meanwhile, what team did Rab C Nesbitt really support?
That's the question we asked when his old mucker Tony Roper (aka Jamesie Cotter) joined us in the studio.
And Sharon from Patna in Ayrshire provided a cracking answer. "Surely it must have been Buckie Thistle?" she said.
Talking of Govan's finest, Tony Smith from Glasgow said: "While we're congratulating Rangers on their 140th birthday, can we also pause for a second and congratulate my mate Trigger on having the same broom for 20 years. It's only had 17 new heads and 14 new handles."
Anon said: "This 140th anniversary of Rangers sounds very similar to The Curious Case of Benjamin Button. Do you think Rangers will be 139 next year?"
Colin Barr in Haymarket was shocked to hear that Jim Traynor was Head of PR at Rangers. "I thought he'd left the Record?" he said.
On that note, Ross in Glasgow said: "Celtic got Tony Watt from Airdrie... Rangers got James Traynor. Discuss!"
We actually finished that programme with a wee tune dedicated to our old BBC colleague.
Nominations included Charlie Is My Darling and Just Wanna Be Your Teddy Bear.
However, as JT prepares to start work at Ibrox, we finished with a song suggested by Peter in Musselburgh... Welcome Home by Peters and Lee!
Finally, our Team of the Week was...
The Undergarments XI
Manager: Roberto Mankini
Celebrity Fan: Nobby Holder
1/ Garter Boruc
2/ Dennis Ys
3/ Hosiery Quitongo
4/ Luther Gusset
5/ Peter Crouchless Panties
6/ Karl Heinz Roomy Knickers
7/ George Vest
8/ Ian St Long-Johns
9/ Ultimo Johnston
10/ Willie Petticoat
11/ Tony Basquerino
To join in the fun on this Saturday's show, call 0500 929500, text 80295 or email offtheball@bbc.co.uk
Listen to the most recent Off the Ball programmes.
Download the latest Off the Ball podcast.