Queen's Park manager Gardner Speirs happy to host Rangers
By Kenny Crawford
BBC Scotland
Last updated on .From the section Football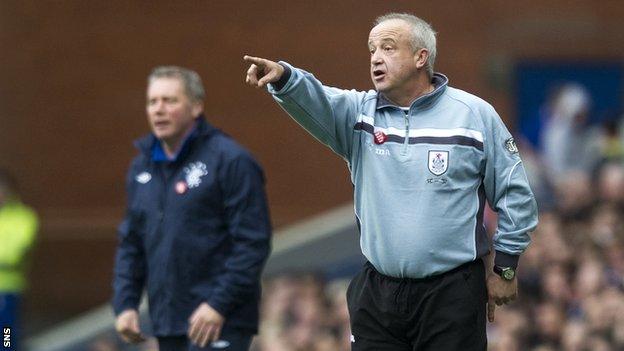 In recent times, the type of 'Rangers' Queen's Park have been accustomed to welcoming at Hampden are of the 'Berwick' variety.
Indeed, a 1-1 draw between the Spiders and the 'Wee Gers' in late October was watched by 487 fans.
On Saturday, a somewhat bigger 'Gers' outfit will descend upon Scotland's national stadium as Rangers make the short trip across Glasgow to play out their final Division Three game of 2012.
And Queen's Park officials are quietly confident of bettering the aforementioned attendance for this one.
Rewind 12 months, and it's a fixture Gardner Speirs, Queen's Park manager since 2008, never would have expected to be preparing for.
"The numbers that appear to be coming here on Saturday is quite staggering," Speirs told BBC Scotland.
"It's going to be unique and I'm sure it's going to be a wonderful atmosphere.
"The focus and the attention of having Rangers in the SFL in general, but the Third Division in particular, is outstanding."
Speirs was boss at Clyde before a spell as Ebbe Skovdahl's assistant at Aberdeen - an individual the 49-year-old says he has learned the most from.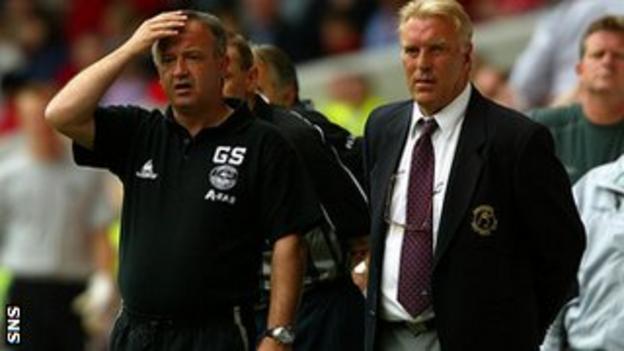 After the Dane left the Dons in 2002, Speirs had a brief spell as caretaker manager at Pittodrie and did likewise at Ross County in 2005/06. He then returned to assistant duties at Partick Thistle before his Queen's Park tenure began.
Speirs knows fine well every last drop of that management experience he's built up over the years will be valuable ahead of Rangers' visit.
"You can certainly tell when a game like this is coming around," he said.
"If you just think about the week leading up to a Rangers game - the jibes and the pressure from family and friends and what not - it all plays its part.
"There's that extra determination in the players' training and everything they do to be in the team.
"The other side of that is if players don't think they're going to be in the team - dealing with that kind of disappointment before it happens.
"So there's a lot of management to be done with the staff and myself."
Queen's Park were formed in 1867 and it was they who started and shaped Scottish football as we know it.
Twice runners up in the English FA Cup, the Spiders lay claim to innovations like the crossbar, the half-time interval and the free kick.
Their amateur status is unique in senior football, underpinned by the motto "Ludere causa ludendi" - to play for the sake of playing.
"It's important to say that the only thing amateur about Queen's Park is the fact that they don't pay players," said Speirs.
"We prepare professionally, we treat the players in a professional manner, we give the players in the first team right down to the youngest the best of facilities and we treat them all the same.
"But the main thing is the motivation the players bring themselves."
To be credited with passing football and to develop youth players are two crucial parts of the Queen's Park ethos.
Although borne long before Speirs' time at the club, he does his utmost to maintain those standards, evident by his side's respectable showing at Ibrox earlier in the campaign.
"Being comfortable in control of the ball, moving intelligently and having an awareness is important to how we try and play," said Speirs.
"We've got talented players coming right through the system and that's testament to the work that we do."
That trail will be helped post-Commonwealth Games in 2014, when Queen's Park will have access to the improved facilities currently being built at Lesser Hampden - which is going to be a warm-up track and jump area for athletes competing at the main focal point of Hampden.
The Spiders are contributing financially to ensure the building can function as a new youth and community clubhouse with offices, boardrooms, viewing areas, gymnasium, and physiotherapy area.
"We could've said well okay that's fine you can have it and put it back the way you found it and we'll carry on after that," explained Speirs.
"But the club took absolutely the right decision to say, well, this is an opportunity for us to have some kind of legacy out of these Games and to upgrade and improve these facilities for the generations that's going to come after us."
Recent counts indicate tickets sold for the Rangers game have already exceeded 25,000.
Will standing on the sidelines at a packed Hampden make Speirs feel like he's Scotland manager for the day?
"I don't know about that," he chuckled
"We'll be in the home dug-out and home dressing room, but I'm looking forward very much to being the Queen's Park manager on Saturday and our guys playing as well as they're capable of playing - that would please me."