Gareth Bale: Andre Villas-Boas says he's one of best in the world
Last updated on .From the section Football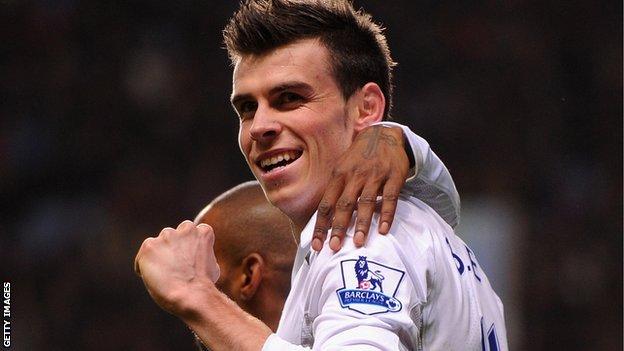 Gareth Bale is one of the world's best players, according to Tottenham manager Andre Villas-Boas.
"He is up there with the best," Villas-Boas said.
"He is showing tremendous skills and he is improving every day - he is such a young player - and helping the team. He is one of our major assets."
The hat-trick took Bale to 10 goals for the current campaign.
Asked if he thought Bale could get even better, Villas-Boas said: "I think so. You always expect that the team can make an individual even better.
"The team changes so much from one year to another, and as he keeps learning, he will feel even better and probably his performances will improve.
"His finishing is very accurate. He has been prolific in front of goal this season and I think he is enjoying getting into those positions.
"His left foot is wonderful and the power and direction he applies on the ball is wonderful too."
Bale went close in a scoreless first half, but was clinical after Jermain Defoe had given Spurs the lead in the 57th minute.
He finished a counter-attack to make it 2-0 by rounding the American goalkeeper and slotting home, before converting tee-ups from Aaron Lennon and substitute Gylfi Sigurdsson.
The Cardiff-born star has been linked with some of the biggest clubs in Europe, including Spanish giants Real Madrid and Barcelona.
But Villas-Boas insists Bale is not for sale and will not be leaving the club in the January transfer window.
Bale paid tribute to his team-mates after scoring the second hat-trick of his senior career.
The first famously came against Inter Milan and the Welshman is keen that Spurs keep Europe's top competition in their sights.
"It's obviously great to get my first hat-trick in the Premier League," he said.
"But I think the most important thing is the team won today. We kept our challenge for Champions' League football alive."