Dundee's John Baird defends Celtic's Kelvin Wilson after elbow
Last updated on .From the section Football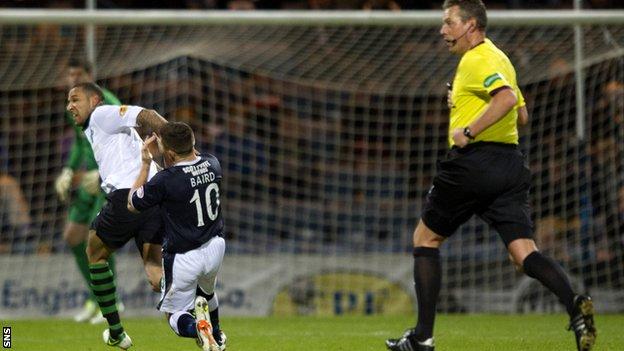 Dundee striker John Baird does not want to see Celtic defender Kelvin Wilson punished for catching him with his arm - despite initially fearing he had lost his teeth.
Baird was angered by the incident just before half-time in but admitted he had brought it on himself by pulling the centre-back.
"I thought I had lost my teeth," said Baird.
"It was an elbow, but I have to stress I think it was accidental."
Scottish Football Association compliance officer Vincent Lunny is likely to review the incident missed by referee Iain Brines.
But Baird's explanation could help save the English defender from disciplinary action.
"I came short and popped it off and I was trying to get in behind," said the Dundee striker.
"To be fair, I went to pull him to try to get an extra yard on him.
"I would need to see it again on the telly. He has clocked me, but I think it was accidental."
Baird accepted his opponent's assertion that it was not deliberate.
"I have pulled him and he is obviously getting his arm out the road," he said.
"I spoke to him as I was going up the tunnel and he said 'you were pulling me'. It's just one of those things.
"I think, if someone pulled me, my first reaction is to get your arm out the road.
"It's not as if he has come over and said, 'here, take that'."