Nations Cup 2013: Bafana must reach final, says Serero
Last updated on .From the section Football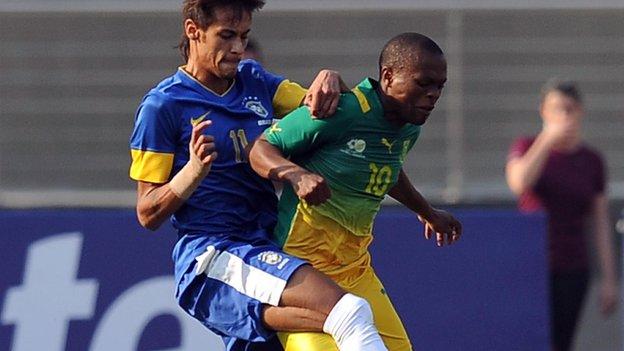 South Africa midfielder Thulani Serero believes Bafana Bafana must at least reach the final of next month's Africa Cup of Nations.
As hosts of the tournament, which takes place from 19 January to 10 February, South Africa are expected to do well.
"We have to reach the final at least to make the country proud," Serero told BBC Sport.
"As we are playing at home, there is a very good chance of us winning the Africa Cup of Nations."
South Africa play the opening match against debutants Cape Verde, and will also face Morocco and Angola in Group A.
Serero is confident Bafana can play to their potential and be successful.
"We have good players and a good coach and I think the players are hyped up to show the country what they can do," he said.
"The pressure on the team is very big but the players and the coaches all know what is expected and surely we will deliver.
"It's not like the team has been playing bad, we were just not scoring goals. Hopefully that will change in the tournament. If we do well, everybody will be happy."
South Africa will be without former skipper Steven Pienaar, who recently retired from internationals, and Serero admitted it is a blow to the team. But there is talk that another big name - Benni McCarthy - may return to the fold.
The striker, who is his country's all-time highest scorer with 31 goals, was omitted from the squad for the 2010 World Cup, which was also held in South Africa, and has not been a regular since then.
However, Serero would welcome his return.
"I think if Benni McCarthy came back into the squad he could help," said the Ajax player.
"If he was there it would give players a boost, he can score goals. He is a very good player and I think he can still deliver."
On a personal note for Serero, his participation in the tournament - which would be the first of his senior career - remains in doubt.
"I am not fully recovered (from a groin injury)," he said. "It has healed sooner than expected and I have played a few games with the second team but I have to be completely honest about whether I can play or not.
" I haven't played in a competitive game for four months so it is very difficult."