Henning Berg sacked: Are Blackburn Rovers in freefall?
Last updated on .From the section Football395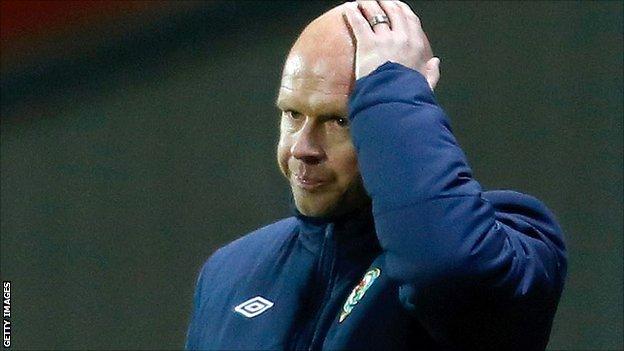 In 1995 Blackburn Rovers were champions of England, having pipped Manchester United on a thrilling final day of the Premier League season. It's been downhill ever since.
Their two-year reign has seen the club go from the top half of the Premier League to the bottom half of the Championship.
Three managers have come and gone in that time with one journalist describing their tenure as a "disaster".
A once proud club has become "a laughing stock" and "a shambles" according to one former player while a leading supporter has called the situation "worrying" and "desperate".
BBC Sport speaks to former player Jason Wilcox, supporter Glenn Mullen and journalist Andy Bayes and analyses another eventful day at Ewood Park.
Jason Wilcox - former player who won the Premier League with Blackburn in 1995
"It's a results business and results have not been great. However, I think Berg inherited a mess from the previous 18 months and it does take time to unravel that and get your own team in.
"If the owners would have been this reactive 12-18 months ago then I don't think the club would have been in this situation.
"I think the sacking is a little bit too early. He would have wanted to bring his own players in and from his point of view he needed more time.
"It's there for everybody to see that over the past two or three years since Sam Allardyce left it's been a bit of a shambles. It was one of the best-run football clubs going and it's now become a bit of a laughing stock in terms of the way things have been handled on and off the pitch. The club is in free fall. They appointed Henning to stop the rot but because he has not been able to sort out the mess he's inherited, he's paid the price.
"One win in 10 does not look good and the owners have panicked. Blackburn Rovers is a fantastic football club but there are players there who are simply not good enough and that is the biggest problem. The players Steve Kean brought in are the reason why the club is in the position it is in.
"Any manager would want to manage a club with the tradition of Blackburn Rovers.
"Mark Hughes will be the favourite and there is no doubt in my mind that Blackburn is still a Premier League club. A new manager needs money to spend and full licence to make his own decisions and to do it his way."
Glenn Mullan - Chairperson of the Blackburn Rovers Supporters Action Group
"The sacking does not come a surprise if I'm completely honest - especially after one win in 10 games. But what is a surprise is that all the backroom staff have gone. We've got a match in two days, the players are going to be in limbo. Who is picking the team on Saturday?
"Supporters asked for an experienced manager but that is not Henning Berg's fault. Unfortunately it has not worked out, and it could turn out to be an £80m decision that has gone wrong - because that is how much it is going to cost Blackburn Rovers if they don't go up this season.
"We've spent a lot of money in the summer, brought in Jordan Rhodes, and are paying Premier League wages. Our operating losses are such that if Blackburn make a mistake with this next appointment, God only knows where we are going to end up.
"Things are really desperate now and someone needs to be held accountable for this. They have gone out and appointed a manager and after 10 games have held their hands up and said 'we've not got it right', but in the meantime our club is lying in 17th position. Who is going to be held accountable? These are very worrying times now.
"Mark Hughes is available and I can't think of many fans who would not want him back. But would he want the job? From the outside looking in, who wants to work at Blackburn Rovers? Our club has spiralled from being in the play-off places to now being closer to relegation. It's terrible."
Journalist Andy Bayes - BBC Radio Lancashire Sport
"It's a decision the League Manager's Association won't like and it will infuriate supporters of other clubs who think Rovers make strange decisions and maybe they do.
"It's difficult to judge a manager who never had the opportunity to buy anyone in the transfer window as he inherited Steve Kean's squad, but unfortunately in today's results-based industry one win in 10 games is not good enough and something had to give.
"57 days was not enough time to judge but it would appear the appointment was a mistake and perhaps it would have been better to appoint a manager who knew the Championship.
"The popularity of the owners has never been great and day-to-day it's becoming worse.
"Since taking over two years ago the Venky's have taken Blackburn from the top half of the Premier League to 17th in the Championship. Everything they have done has backfired and ever since the sacking of Sam Allardyce, everything they have done has been a disaster.
"In an ideal world they would appoint someone who knows English football, has experience of managing in the Championship and who has a coaching staff that is ready so that they can make an immediate assessment.
"Mark Hughes would be welcomed back but whether he would work under the current set-up is another matter."