Alan Pardew keen to secure Demba Ba's Newcastle future
Last updated on .From the section Football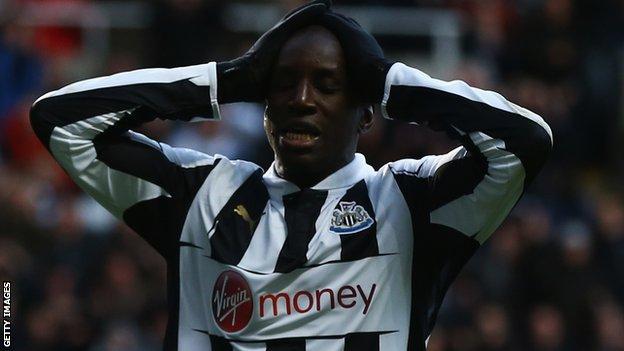 Newcastle United manager Alan Pardew wants to agree a new contract with Demba Ba to end speculation about the striker's future at St James' Park.
But Pardew is keen to offer him a new contract which does not involve a release clause if he stays.
"We will either move Demba on or we will secure him in the summer," he said.
Ba has scored 27 goals in 53 Premier League appearances since joining Newcastle on a three-year deal from West Ham United in June 2011.
Queens Park Rangers and Arsenal have been linked with the 27-year-old former Hoffenheim player, who has 11 league goals this season.
Pardew is confident the Senegal international wants to stay, but if he does, he wants to avoid a repeat of the speculation about the player's future in the summer.
"Really and truly this window is the key, I think, because if Demba goes in this window, it will cause us a problem," he added.
"I think he will stay, but there's a possibility he could go because of the clause that's still in force.
"In the summer - I won't let it run until the summer. I'll do something about it."
Meanwhile, Pardew admitted he was surprised not to see Sir Alex Ferguson reprimanded at the time for his conduct towards referee Mike Dean and his assistants during Wednesday's 4-3 defeat at Manchester United.
The Manchester United manager was furious Dean over-ruled assistant Jake Collin and awarded Newcastle's second goal, but the referee took no action during the game and did not report the incident in his match report.
Pardew said: "I think Mike Dean might feel slightly disappointed he didn't do something about it. The pressure that was on him was tough to take for a referee.
"It's an emotional game. Apparently they had a cordial discussion. I have had a few of them myself, but sometimes I have ended up in the stand with that cordial discussion.
"But anyway, it's gone now, it's irrelevant to me."