Liberian signs alcohol treatment contract
Last updated on .From the section Football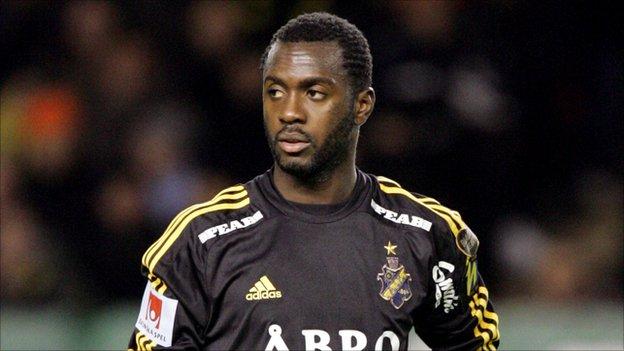 A Swedish second division side has signed a highly unusual contract with Liberia international Dulee Johnson.
The deal includes two years' treatment for the midfielder's alcohol problems.
Capped 12 times by the Lone Star, the 28-year-old central midfielder won the Swedish league and Cup with AIK, one of Sweden's biggest clubs.
But his career has been blighted by criminal charges and disciplinary problems arising from alcohol abuse.
Stints in Israel, Greece, Netherlands and South Africa all came to a premature end due to his difficulties with alcohol.
"Dulee himself has realised he has a problem but he has been able to deliver on the pitch," IK Brage chairman Tommy Andersson told a media conference on Friday where the club revealed Johnson as their new signing.
"We have signed a contract between IK Brage, Nudax Rehab and Dulee... a three-sided deal for treatment over two years."
Johnson himself said he was determined to conquer his demons and get on with his football.
"Previously I have lied to myself that I didn't have a problem," he said.
"It has caused problems in the other clubs I have played in but now I've decided to get the help I need."