Tanzanian league could be halted as taxman seizes money
By Emmanuel Muga
BBC Sport, Dar es Salaam
Last updated on .From the section Football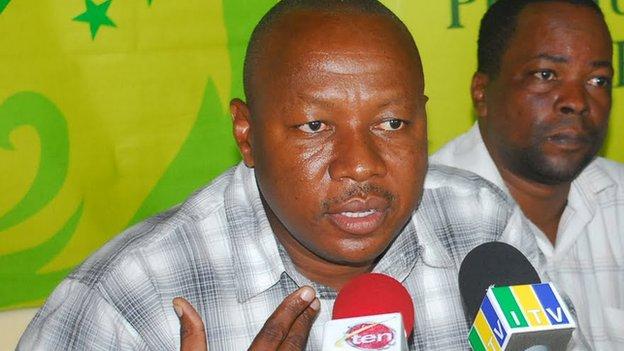 The second part of the Tanzanian Premier League could be cancelled after the country's tax authorities seized sponsorship money.
The Tanzania Revenue Authority (TRA) has seized over US$100,000 that was destined for the league's 14 clubs.
The teams now say they will be unable to resume the second part of the season that is due to kick off at the end of January.
The TRA claims the Tanzania Football Federation (TFF) owes money on salaries paid to foreign national team coaches since 2006.
However the TFF insists the money that has been seized belongs to the clubs and not the federation.
"In November this year TRA used its statutory powers to take the money from one of our accounts - but this was the clubs' money," a TFF statement said.
TFF secretary general Angetile Osia has said the clubs are justified in threatening to boycott the league.
"The majority of them depend on this money to participate in the league, if TRA doesn't give it back to them there is no way they will manage to continue with the league," he told BBC Sport.
Osia added that the responsibility of paying foreign coaches, starting from Brazilian Marcio Maximo in 2006, was the government's.
"We are not responsible in any way, the coaches are paid by the government who are supposed to pay the taxes for them not the TFF," he added.
TFF says it has now asked the ministries of finance and of sports to intervene and ask the TRA to return the money.
Of the 14 clubs involved only Yanga, Simba and Azam have additional sponsorship on top of the package from league sponsor's Vodacom.