MBE for former Arsenal and Northern Ireland player Pat Rice
Last updated on .From the section Football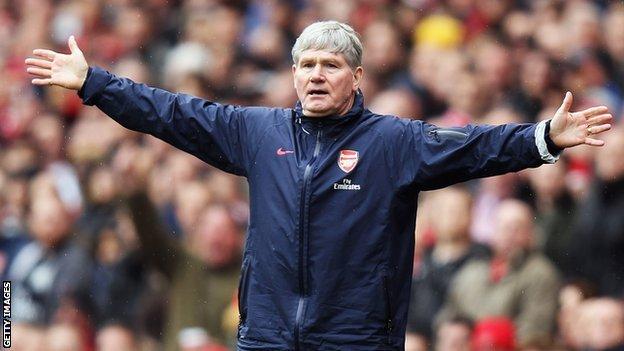 Former Northern Ireland and Arsenal defender Pat Rice has been appointed an MBE in the New Year Honours list.
Rice made more than 400 appearances for Arsenal, helping them win their first league and FA Cup double in 1970-71, and won 49 caps with his country.
Following his retirement from playing after a spell at Watford in 1984, Rice became a coach with the Gunners.
He then got the job of assistant when Arsene Wenger became Arsenal manager at Highbury in 1996.
Rice, 63, played a part in two more doubles and the unbeaten league season of 2003-04 before announcing his retirement at the end of last season 48 years after first joining Arsenal.
Wenger said: "I am absolutely delighted because if someone deserves it, it is Pat Rice.
"He had 100% genuine commitment every day and you respect that when you see that from somebody, and he is someone you could go to war with.
"You would love to be in the trenches with Pat and those are very difficult qualities to find in modern society."
Rice greeted the news with shock and joy, saying: "I am delighted and honoured to be receiving an MBE.
"The news of the award came as a complete surprise and I am just so flattered to be included.
"Football and Arsenal have been my life and I have so many fantastic memories during my career. I have been lucky to have played and worked with so many great individuals, and through hard work I have enjoyed some success along the way.
"I would like to take this opportunity to thank everyone who has helped me throughout my career, and importantly, a special thank you to all my family, who have always been there for me and supported me throughout my career."