Striker Danny Graham committed to Swansea future
Last updated on .From the section Football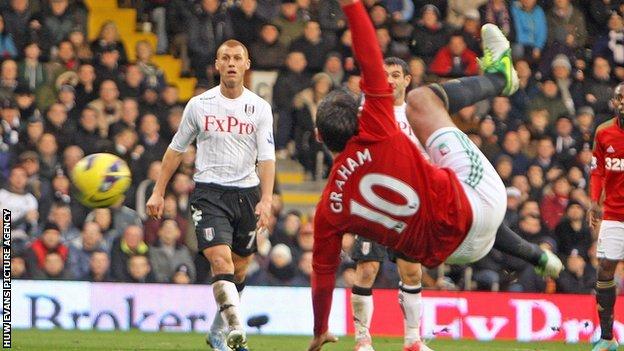 Danny Graham hopes that his goal-scoring performance in Saturday's proves to manager Michael Laudrup he has a future at Swansea.
An integral part of Swansea's first season back in the top flight, this term the form of top scorer Michu has often seen Graham on the bench.
"The gaffer says he wants to sit down with the players who haven't been playing as much," Graham said.
"If the gaffer [Laudrup] wants me to stay I'll stay."
Graham was a Swansea club record £3.5m buy when former manager Brendan Rodgers recruited him from Watford in June 2011 and he hit 14 goals from 39 appearances last season.
Michu arrived at the Liberty Stadium last summer from Rayo Vallecano as an attacking midfielder but current Swans boss Laudrup has utilised the Spaniard as Swansea's lone striker.
The positional switch has seen Michu reap 14 goals from 22 appearances, but that has often left Graham looking on from the sidelines.
"It's been very frustrating. I want to play football, I don't want to sit on the bench," Graham said.
"I don't want to sit around and pick up money, I want to play and contribute to the team.
"It's a club that's moving forward and of course I want to be part of it, but I'm not the only one in that situation.
"I haven't gone in and banged on the gaffer's door shouting why I haven't been playing and stuff like that, I've just got my head down in training, played a few under-21 games to keep me ticking over and when the chance has come I felt as though I took it."
The 27-year-old former Middlesbrough trainee has bided his time and an injury to Michu gave Graham the chance against Fulham to remind people of his goal-scoring prowess.
"It was nice to get the nod, I haven't been in the team as much of late but when I got the chance it was about taking it," Graham added.
"I felt as though I did that [against Fulham], a good performance, a goal, but the most important thing is another three points for the team.
"As soon as I got the goal I felt as though my hold-up play, the one-touch lay-offs and stuff like that, I felt it was as though it was all coming back."
Graham praised the Swansea defence for keeping them in the game as the visitors stuttered in the face of some sustained Fulham pressure.
"We didn't pass the ball as well as we wanted to and how we have done over the past couple of weeks, but we showed a different side to us - a bit of steel which a lot of teams might think we haven't got," Graham said.
"We have got quite a small team but we defended set plays well, we defended the cross well and even towards the end everyone was putting their bodies on the line and we deserve the three points.
"Not just me but the other boys who have come in today... seven changes.
"The boys who have been playing have been superb, some of the results we've had have been fantastic again.
"But hats off to the ones who haven't been playing to come in and give the manager something to think about. I'm sure we've all done that, not just myself."