Alexandre Pato: Brazil return could revitalise AC Milan striker
By Tim Vickery
BBC Sport, Rio de Janeiro
Last updated on .From the section Football74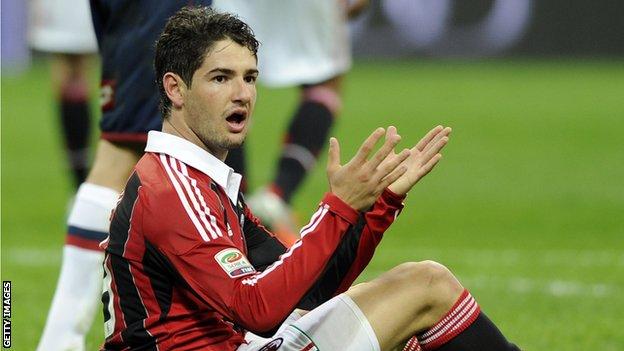 It is almost five years since an 18-year-old Alexandre Pato crowned a memorable competitive debut for Milan with a wonderful solo goal. His early form appeared to confirm hopes of a football genius.
There would appear to be two main reasons for this.
The first is the difficulty of dealing with celebrity status. Pato's marriage to a Brazilian soap opera queen fell apart with predictable speed - she had to give up a career of glamour and glory to live in Italy.
It always looked like a recipe for resentment.
Then-Brazil coach Dunga cast him out of contention for the last World Cup because he did not feel the young Milan striker was fully focused.
The principal problem, though, has been the cruel sequence of injuries, and especially muscular problems, that Pato has suffered. Putting this right is surely one of the motives behind a move back home.
Joining the reigning World Club Champions will give Pato much needed visibility in the build up to the next World Cup. But none of that is any good unless he is fit enough to play.
Both club and player are betting that the physiotherapists, sports doctors, physiologists and physical preparation staff of Corinthians will be able to do a better job than those of Milan.
It is a widely held view in the Brazilian game that the local specialists in these fields are the best in the business. And it seems undeniable that this was an important factor in Brazil's last World Cup win, a little more than ten years ago.
Luiz Felipe Scolari would certainly agree. He coached Brazil to that 2002 triumph, and was recently reappointed in the hope that he might repeat the act on home soil in eighteen months time.
Almost the first thing he did on his return was announce the recall of one of the key figures behind the World Cup win - physical preparation specialist Paulo Paixao.
Remember the scenario. Inter Milan were unable to get Ronaldo fit. Barcelona said that Rivaldo was not in good enough condition to play in the World Cup.
Paixao and his team had both buzzing in time for the tournament. And they did much more.
The 2002 World Cup was held a couple of weeks earlier than usual in a bid to avoid the rainy season in Japan and South Korea. It gave the top players less time to recuperate after the European season - and this at a time when the recent expansion of the Champions League had made that campaign especially gruelling.
The result was that everyone who had played in Europe seemed to be out on their feet - with the exception of the Brazilians, who were still full of running.
Wing backs Cafu and Roberto Carlos had played the same European season as everyone else. But come the World Cup they were still charging up and down the flanks like men possessed.
Meanwhile, Paixao and company could hardly believe it as the team Brazil really feared - France - pushed the self-destruct button. Zinedine Zidane had ruined the previous World Cup for Brazil and would ruin the next.
But he made little mark on 2002. France put their prestige as world champions on the line in a tough warm up match against South Korea, and Zidane picked up an injury that kept him out of his country's first two games, and reduced him to a limping, one legged figure in the third.
Brazil, who gently warmed up against Malaysia a week before their debut game, would never have taken such a risk.
When I spoke to him soon after the tournament Paixao was rightly proud of what he had done. "I said before the World Cup that the side who had the physical and sports medicine aspect best organised would have the best chance of winning. And that's what happened."
But, elegantly, he was anxious to share the credit. "Brazil has a number of physical trainers who could have been in my place," he said (one candidate is Fabio Mahseredjian, who Pato will be working with if he joins Corinthians).
"The culture of physical preparation we have developed doesn't get the credit it deserved," continued Paixao back in 2002. "In terms of methodology of work, Europe is way behind Brazil."
Is that still the case a decade later? I am no expert in European football, but I am aware of the advances made in Portugal, and disseminated through Europe by the likes of Jose Mourinho, where physical and technical training are no longer done separately - everything is integrated around the team's collective idea, its model of play.
Does Brazil continue to enjoy a lead in physical preparation, and will it matter as much as it did in 2002? After the poor level of play in that tournament, FIFA stepped in to safeguard its premier competition by insisting that more time be available for teams to prepare before future World Cups.
But, assuming the Corinthians deal goes through, if Alexandre Pato is firing on all cylinders in time for 2014 it will indicate that the Brazilian school of physical preparation still has plenty to offer.
From last week's postbag;
Q. As an Aston Villa fan, and with the recent focus on the World Club Cup, I was thinking back to the last and only time Villa competed for the trophy in 1982 when we were beaten by Penarol of Uruguay. I recall Penarol being a quite successful team at that time and indeed back in the 1960s also. From what I read, they last won the Libertadores back in 1987. What state are the Uruguayan clubs in these days?
Niall Brosnan
A. As you said, they are fifth and their last Libertadores win came in 1987. A year later their big rivals Nacional won it for the third time. The following year the historic third force Danubio reached the semi-finals - and that was it for 20 years.
When the global market opened up, Uruguayan domestic football really suffered - with a population of little more than three million they simply don't have the money to compete.
These days Uruguayan football has three types of player - youngsters on the way to a move abroad, veterans who have come back from abroad, and those in the middle who are not good enough to attract foreign attention.
There has been something of a mini revival in the last few years, with the national team structure helping produce promising youngsters. Nacional reached the Libertadores semis in 2009, and Penarol got as far as the final two years later.
But there is a price to be paid for such success - those sides were quickly broken up with the best players moving abroad.