Hearts face signing restrictions until end of season
Last updated on .From the section Football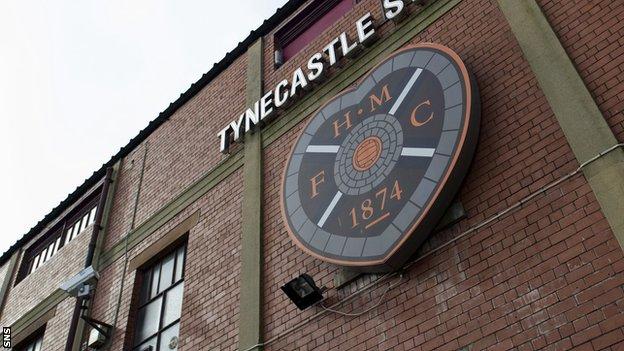 Hearts will be subject to restrictions in registering players until the summer after being found in breach of Scottish Premier League rules.
The club are currently banned from signing players, punishment for late payments to staff.
The embargo will continue until the SPL are satisfied the "remuneration default" is no longer ongoing.
However, if the ban is lifted Hearts will only be able to sign under-21 players until the end of the season.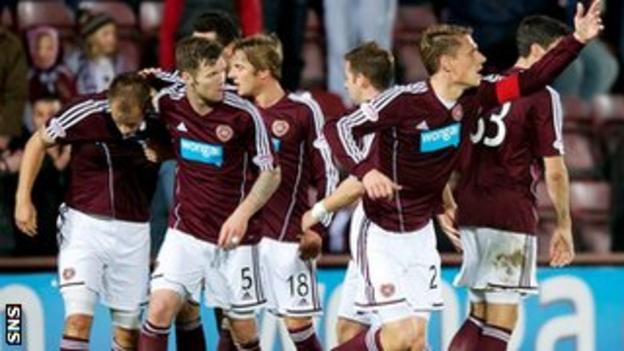 Other restrictions would include only being able to sign replacements for players who had departed and such replacements representing a lower "annualised employment cost" than the corresponding departing players.
The SPL board sub-committee that considered the charges comprised chief executive Neil Doncaster, secretary Iain Blair and Kilmarnock chairman Michael Johnston.
And Hearts, who had legal representation at the hearing, have seven days to lodge an appeal.
An SPL statement read: "The decision of the sub-committee today was that the club should be made subject to further restrictions on the registration of players.
"As a result, if and when the club satisfies the SPL board that the remuneration default is no longer ongoing, the club will (until the end of the 2012-2013 season) only be able to register players on the following basis:
One out, one in (i.e. the club will only be able to replace such number of players as have their registrations with the club terminated - whether by sale, mutual agreement or otherwise)

Only under-21 players (as defined in the SPL rules) will be able to be registered

Any new under-21 player registered must have an annualised employment cost lower than that of the player leaving the club."
The club were initially placed under a 60-day transfer embargo in October for failing to pay their players and some staff their monthly wages on time for two consecutive months.
And the ban was extended earlier this month due to the remuneration default regarding bonus and appearance monies.
The Tynecastle outfit vowed to challenge the extension, indicating that there was no written due date for payment of bonuses.
Speaking after Monday's hearing at Hampden, Hearts stated: "The club is currently consulting with its lawyers with a view to considering its available options and will make a fuller statement in due course."