DJ Campbell: Ipswich Town hoping to arrange QPR deal
Last updated on .From the section Football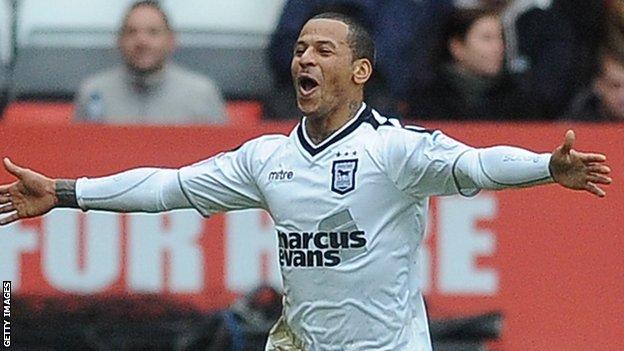 Ipswich Town top scorer DJ Campbell will go back to parent club QPR this week but could return to Portman Road on a permanent deal.
The 31-year-old, who has scored 10 goals in 16 games since joining Town in October, will play the last game of his loan spell against Brighton on Tuesday.
"We are trying to do a deal to keep him," Ipswich boss Mick McCarthy told BBC Radio Suffolk.
"I've spoken to DJ and effectively I've offered him a permanent deal."
He added: "But it's not only him. It's about agreeing the terms and conditions with QPR. I think we're capable of getting a deal."
Campbell has started every game of his spell in Suffolk and has helped Ipswich to five wins from their last seven games.
QPR boss Harry Redknapp may want to use the former Blackpool frontman's goal-scoring form in an attempt to turn around the fortunes of his own side, who are bottom of the Premier League.
"He'll go back there and then we'll see what happens after that," said McCarthy.
"I've spoken to Harry but DJ will go back there first.
"This will be his last game because whether we'd got permission to play him in the FA Cup or not I wasn't going to play him.
"I think Harry in his position will justifiably want to have a look at him."
McCarthy is also eager to extend keeper Stephen Henderson's loan from West Ham.
"I would like to keep him on loan but if I do there's always a 24-hour recall which leaves me fairly exposed," he said. "As yet that's not been resolved."
But defender Danny Higginbotham will not be returning to Ipswich in January.
despite not giving him a game since 24 November, but the 33-year-old is eager to find regular first-team football.