Plymouth Argyle: No new manager until after Port Vale game
By Brent Pilnick
BBC South West Sport
Last updated on .From the section Football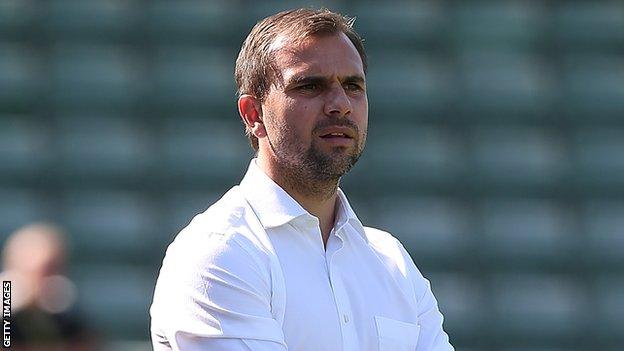 Plymouth Argyle do not expect to have a new manager in place before Saturday's game at Port Vale.
The club has been approached by a number of candidates hoping to take over after
It means coaches Kevin Nancekivell and Romain Larrieu will take charge of Argyle for the League Two fixture.
Argyle director Colin Sexstone will lead the hunt for a new manager who the club hope to appoint next week.
Fletcher lost his job after the club's left the Pilgrims two points above the League Two relegation zone with just one win in 15 games in all competitions.
"I think the results over the course of the season have led to an inevitability about the decision," Argyle president Chris Webb told BBC Radio Devon.
But Webb urged people to remember the work Fletcher did for Argyle during one of the toughest times in the club's history.
The Pilgrims went into administration in February 2011 and Fletcher, who was captain at the time, led the players through periods when they went without pay.
"Carl's a credit to himself, a credit his family and a credit to the club, he always has been," Webb said.
"If you look back to the way he conducted himself during administration - leading the players several times, making sure that they went without pay to save the club, and then taking a pay cut himself to see James Brent get over the line, the guy is an exemplary professional.
"I want to thank him personally and on behalf of the supporters of our club, he truly is an Argyle legend."
Plymouth suffered two successive relegations from the Championship to League Two between 2010 and 2012.
Webb says that the next person who takes on the manager's role is vital for the future of the club.
"This is possibly the biggest appointment in Argyle's history," he added.
"We need somebody who's going to lift this place off the ground.
"Everything's ready to go, we're all ready top get behind the new man, we just need that right appointment."