Nations Cup 2013: Tottenham wait for Adebayor decision
Last updated on .From the section Football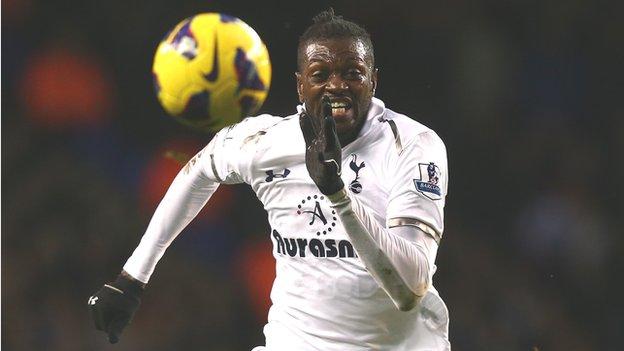 Tottenham remain unsure whether striker Emmanuel Adebayor will decide to link up with his country Togo to play in the Africa Cup of Nations.
If the 28-year-old plays in the competition in South Africa, which starts on 19 January, he could miss five games for the Premier League side.
Adebayor helped Spurs to a 3-1 win against Reading on Tuesday and his absence would be a big blow to Spurs.
But boss Andre Villas-Boas said: "If he wants to go, we respect that."
Adebayor recently put his international career on hold because of a dispute with the Togolese federation over match bonuses.
And it was widely believed that the former Manchester City player would stay at White Hart Lane rather than link up with his countrymen.
But Togo manager Didier Six has made a plea for him to change his mind and it now seems there is a chance that could happen.
After Tottenham's victory on Tuesday, in which Adebayor scored, Villas-Boas admitted: "It's a vulnerable situation, anything can happen," he said. "I've told you the player can still go, I understand it is still a possibility.
"It was always his choice, I'm not going to put pressure on him. We've left it to [the] player to decide."