Guernsey FC face fixture congestion after postponements
Last updated on .From the section Football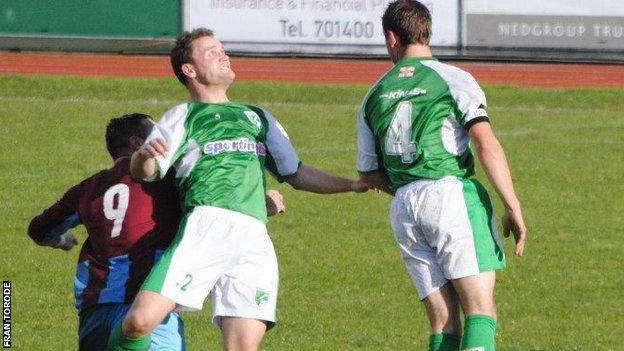 Guernsey FC will be forced to play at least 18 games in March and April as their fixture congestion increases.
The Combined Counties League side saw all their festive matches postponed after the home game with Hanworth Villa was called off because of rain.
Guernsey have called off six games at Footes Lane this season because of a waterlogged pitch while their FA Vase run has also seen games postponed.
Guernsey will face two games in three days at least six times in the period.
And their fixture numbers could increase if Guernsey progress further in the FA Vase or the Combined Counties Premier Cup.
"It is a concern, there's no doubt about it," manager Tony Vance told BBC Guernsey.
"The major worry for me right now is that we haven't had a game for five weeks.
"Our rivals Egham Town are playing all the time and winning, so they're putting points on the board.
"We've got games in hand on them, but points are so much better.
"We're training very hard, but nothing beats matches, and we do better when we've got momentum building up and running."
Guernsey will face much of the rest of the season without injured trio Angus MacKay, and Jason Winch.
And while Vance feels his side can cope, any more injuries will test his squad to the limits.
"I'm in a fortunate position in that whilst we're missing Zico, Winchy and Gus, the greatest positive I can give to the group is that since they've been injured we've done well.
"We are thin on numbers but I'm in the fortunate position when four or five people can come in and we're not affected at all.
"If we lost a few more to injury it would be hard.
"We are going to have to use the squad wisely, but some of the decisions I have to make won't just be tactical decisions but emotional and mental decisions when people are tired.
"I've got to balance that and make sure that we look at the whole programme."