Didier Drogba & Nicolas Anelka put Chinese football on the map

By Sam Sheringham
BBC Sport
Last updated on .From the section Football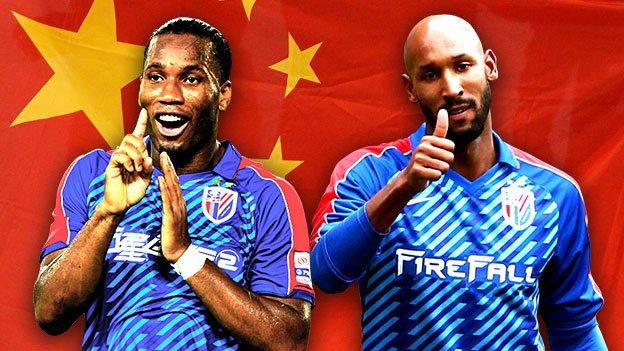 If you ever have reason to seek out a video clip of the moment Didier Drogba arrived in China, make sure you turn down the volume.
In scenes reminiscent of Beatlemania, the former Chelsea striker emerges through the sliding doors at Shanghai airport to be greeted by ear-splitting screams. He is ushered through a vast swathe of Shanghai Shenhua fans, who chant his name, wave the team's flag and compete for a vantage point from which to snap a photo of their new hero.
Drogba is clearly a little taken aback as the crowd swells to an even greater number outside the terminal building before an increasingly flustered-looking troop of security guards bundle him into a car and away.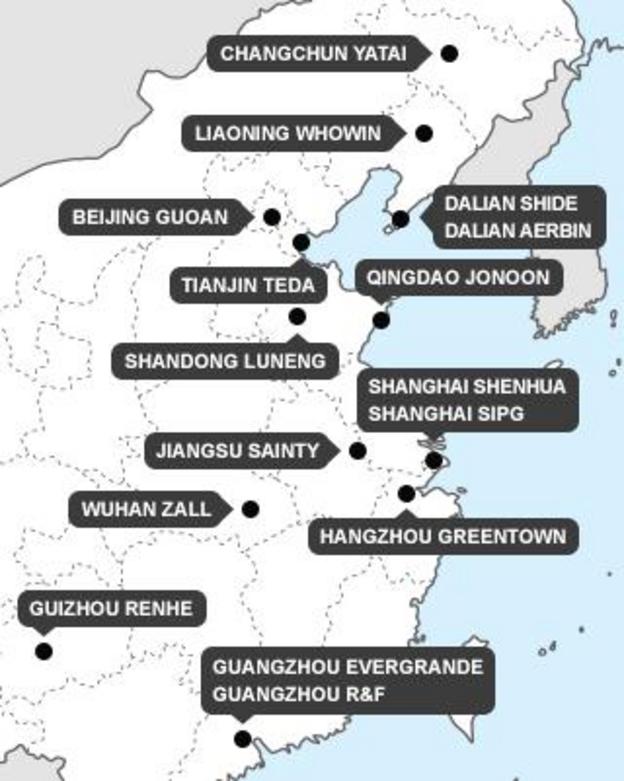 The Ivory Coast forward has teamed up with former Chelsea strike partner Nicolas Anelka at Shenhua in a league which - thanks to the financial power of wealthy club owners - has also tempted ex-Premier League strikers Ayegbeni Yakubu and Fredi Kanoute.
It is also being touted as a possible destination for former England captain David Beckham and Chelsea midfielder Frank Lampard, while World Cup-winning coach Marcello Lippi also works there, steering Guangzhou Evergrande to their second straight title in October.
"The Chinese Super League - or at least a handful of clubs - are awash with money from club owners, who are often developers riding the huge property bubble in mainland China," said James Porteous, a sports reporter at the South China Morning Post.
"Guangzhou Evergrande are owned by Evergrande Real Estate Group, whose chairman Xu Jiayin is mainland China's richest man.
"Why these men want to spend their money on football is another question. Part of it is no doubt love for football and the wish to be associated with a successful team. But some believe owners are trying to curry favour with the government. Bringing new global prestige to the game may help the owners look good with the powerbrokers."
Courting politicians comes at a price - Drogba reportedly earns £200,000 per week, with Anelka on about £170,000. In contrast, their team-mate Feng Renliang, a 24-year-old winger who plays for the China national team, was on a salary of £70,000-a-year before he joined champions Guangzhou in December.
And yet, while Drogba and Anelka have helped raise the profile of domestic football in a country obsessed with the Premier League, they have also exposed some of the enduring problems that may cause Lampard and Beckham to think twice before heading east.
During a tumultuous first season, Shenhua coach Jean Tigana turned up to a match only to be told his services were no longer required. With Tigana's backroom staff having been sacked earlier in the week, the team were forced to play the game in front of a virtually empty home bench.
The famously introverted Anelka then had a disastrous spell as player-coach before former Argentina boss Sergio Batista was handed the reins against the Frenchman's will.
The club, owned by internet tycoon Zhu Jun, finished a disappointing ninth in the 16-team league amid reports that Anelka and Drogba are in dispute over unpaid wages following a shareholders' dispute at the club. Anelka has since been linked with a return to the Premier League, while Drogba is reportedly a target for Italian giants AC Milan and Juventus.
According to former Manchester City and Celtic striker Chris Killen, who has been playing in China since July 2010, their experiences are typical of an unstable and chaotic footballing infrastructure.
"A club can change hands, change owners or change names in the middle of the season," the New Zealand international told BBC Sport.
"That is the situation at the moment with my club Chongqing. They are currently being bought out so it's a little bit up in the air as to where I will be playing next season. A new sponsor might come in and move them to Beijing."
Killen, who signed for Super League club Shenhzen Ruby after being released by Middlesbrough and subsequently moved to Chongqing in the division below in February, says the disorder can also affect players' day-to-day routines.
"In the UK, I was used to getting up at nine for training at 10, but when I arrived here we would only be told the time of training the night before," he said.
"There was a lot of money but not a lot of organisation and it kind of showed on the football field. It was free-flowing football but there was no structure.
"The majority of players over here have never learnt the basics from day one. You get talented youngsters who can go past four or five players and put it in the top corner, but come a set-piece they don't know how to mark."
China's first professional football league was founded in 1994 and drew average attendances of more than 20,000 for its first few seasons. However, by the time it was replaced by the Super League in 2004, match-fixing and gambling scandals had prompted many fans to turn their backs, with attendances plummeting to about 10,000.
In 2009, Chinese authorities launched a campaign to reform the sport, leading to the arrest of dozens of referees, players, officials and coaches. The country's most successful referee - Lu Jun - was jailed for five and a half years for match-fixing in February, while two ex-heads of the football league were handed 10-and-a-half-year sentences for corruption in June.
There are signs that the clean-up, coupled with the influx of foreign stars, is having the desired effect, with average attendances last season up 6% year-on-year to nearly 19,000.
"It's taken a lot of time for the trust to come back from the fans," said Killen. "In Chinese life, there are a lot of backhanders and things going on behind closed doors, but it's definitely not like what they said it used to be.
"I haven't played any games where I have seen money changing hands or thought to myself 'something isn't right here'. The penalties are so harsh that people are not going to take a risk like they used to."
The changing image of Chinese football is causing sponsors to flock back, too. Global media company IMG, which severed ties with the Super League in 2004 at the height of the corruption scandals, signed a 10-year partnership in October aimed at helping improve the management of clubs, developing training programmes and bringing in other corporate partners.
Meanwhile, electronics firm Toshiba has put its name to the Chinese FA Cup, and sportswear giant Nike manufactures the kits for all 16 Super League clubs.
Although money from gate receipts and sponsors is a welcome boost to club coffers, the luring of top foreign stars is only sustainable while rich benefactors are pumping in their millions, says Porteous.
He believes changes to the Chinese economic climate may affect the likelihood of more players following in Drogba and Anelka's footsteps.
"There are signs the Chinese economy, which has been on a wild boom, is starting to slow down. Property and development will probably take a big hit," he said.
"How long will these companies wish to continue bankrolling spending sprees if they are struggling in their core business?"