Kilmarnock: Self-gag threat by manager Kenny Shiels
Last updated on .From the section Football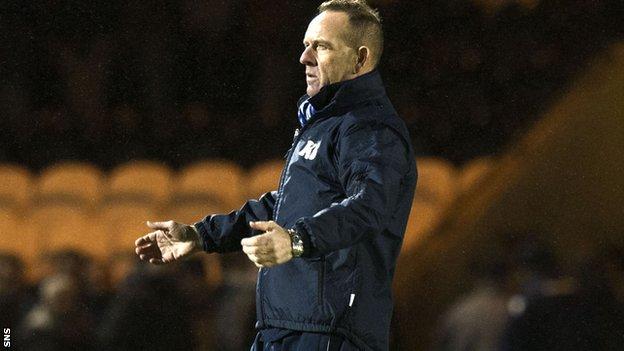 Kilmarnock manager Kenny Shiels has threatened not to comment on refereeing decisions until officials agree to be interviewed themselves.
His words came after he cut short a BBC Radio Scotland interview after being asked his opinion of two penalties in their 1-1 draw with St Mirren.
"I will not answer questions about referees and I'm emphatic about that," Shiels told other media.
"I'm not doing any more interviews until the referees are interviewed."
When asked about the penalty awards on BBC Scotland's Sportsound programme, Shiels said: "Why are you asking me that?
"I'm comfortable with you guys in the media interviewing the referee, because I'm biased - I'll support my own club."
Scottish referees do not put themselves forward for such interviews, but Shiels said that he would be able to respond if they did.
"If the referee gives a penalty, don't come on and ask me if it was a penalty or not," he said. "Ask the referee."
Shiels later apologised for cutting short his radio interview and explained to other media that he thought the penalty awarded against his own side was harsh.
Referee Brian Colvin pointed to the spot after St Mirren's Dougie Imrie was brought down by Mark O'Hara and Paul McGowan stepped up to fire past Cammy Bell.
That cancelled out Liam Kelly's opener, the result of Jon Robertson's challenge on Paul Heffernan.
"I have to watch what I say, Mark was unlucky," added Shiels.
"The conditions were really difficult for both teams and I was very pleased with the performance.
"We were in control of the game, but it was taken out of our hands - the penalty changed the whole shape of the game."