Burton Albion boss Rowett plots new Leicester City downfall
By Owen Phillips and Matt Newsum
BBC Sport
Last updated on .From the section Football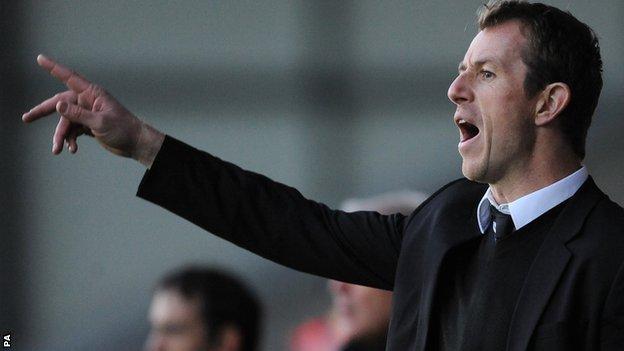 Burton Albion manager Gary Rowett has one over-riding memory of the FA Cup.
And the involuntary wince quickly reveals it's not a good one.
When Rowett's Brewers take on one of his many old clubs Leicester City in a third-round tie on Saturday, those bad memories of a humiliating quarter-final defeat against third-tier opposition will come flooding back.
"I always cringe when that question comes up," Rowett told BBC Sport. "My most memorable FA Cup moment - for all the wrong reasons - was when we got knocked out by Wycombe when I was at Leicester.
"It was the guy from Ceefax, Roy Essandoh, who made himself quite famous on the back of it. It was a quarter-final at home. They were in the old Second Division and we were in the Premier League.
"I think we fully expected to go through to the semi-final. Perhaps that little bit of malaise, and the fact we felt as though the tie was already won cost us on the day."
Having trudged off the pitch at Filbert Street after Essandoh's last-minute winner that day in March 2001, Rowett hopes to be involved in another dark day in Leicester's FA Cup history.
He has form too. Burton stunned the Foxes in the Capital One Cup in August, winning 4-2 at the King Power Stadium.
The Foxes responded to that defeat by embarking on a run of seven wins in nine, and with recent signing Chris Wood in their squad, warmed up for the tie with a 6-1 win against Huddersfield.
That signalled a low point for Nigel Pearson in his second stint as Foxes manager, with speculation rife that he would be sacked. But they have responded in style since then, and are currently fifth in the Championship table.
And Bromsgrove-born Rowett, who made 57 appearances for Leicester following a £3m move from Birmingham, expects a different challenge from Pearson's side this time round.
"We have got to give the Cup credence in our minds. We will be fully focused," said Rowett who has taken the Brewers to eighth place in League Two in his first season in charge.
"It's important that club like ours are always looking to see if we can get through to the next round. It will be a massive ask to get through against a side who are flying high like Leicester.
"It's always nice to go back to your old clubs. It's a very different club from when I was there, although it wasn't too many moons ago.
"But the fact we have gone back once and beaten them will make it a little bit more difficult to do so again but it gives the players belief we can do it.
"We take a huge amount of confidence from beating them but we have to be aware it will be a different proposition. They will probably have four of five more regular first-team players in their side.
"I don't think they will change too much from their regular side and it will pose a different challenge and make it even harder game this time."
Rowett experienced both highs and lows of the cup during a 17-year playing career, from dumping out top-flight opposition with Cambridge to the despair of Essandoh's winner.
Fifty-one places separate the clubs going into Saturday's trip across the A50, but Rowett knows more than most about the levellers in cup encounters.
"There was the run with Leicester and I did well with Derby getting to the sixth round on one or two occasions," he added.
"At Cambridge we were always the underdogs but we used to knock bigger teams out quite regularly.
"We beat Sheffield Wednesday at home 4-0 and that makes you mindful of what you can achieve in these games as an underdog.
"We have knocked Middlesbrough out and I have seen it happen. I was here at Burton when Manchester United were held to a 0-0 draw at the Pirelli.
"You have to recognise the key aspects that the underdogs will bring to the game that a side in the Championship will not enjoy and maybe find more difficult to cope with than what they may face in their own league."
One thing is for sure, if Burton win at Leicester there will be a thought for the opposition from Gary Rowett, who knows only too well the agony of a cup giantkilling.