Romain Larrieu committed to Plymouth Argyle cause
Last updated on .From the section Football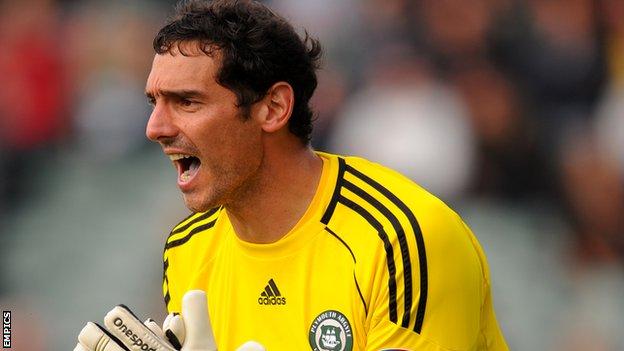 Joint caretaker manager Romain Larrieu says he will continue to work hard for Plymouth despite not knowing how much longer his services will be needed.
The Frenchman has been at Argyle since 2000, first as goalkeeper, then as assistant to
Larrieu and coach Kevin Nancekivell
"All I can control is these three days with Nance and I want them to be spot on," he told BBC South West.
The 36-year-old
He is unsure as to how long he will remain at the club, with the board considering options for Fletcher's replacement.
"Whatever happens I can't control it, so I'm not going to be worrying about it, not right now," said Larrieu.
"My wife was upset because it's never nice to see one of us go, but she understands how it works.
"There's no point feeling sorry for yourself, that's the way it is, so we'll work as hard as we can for the duration of our contracts, or the time we're given."
Larrieu says he has learnt a lot from his time on the coaching staff Home Park.
"The experience is great. To deal with a group of young people, try to make sure that the whole organisation is good, it's a great experience," he added.
"I don't regret the choice that I made, which a lot of people questioned at the time, when I stopped playing.
"It's been an eye opener and I've learnt so many things, whatever happens next I'll have it forever."