Luis Suarez's Liverpool role may change, says Brendan Rodgers
Last updated on .From the section Football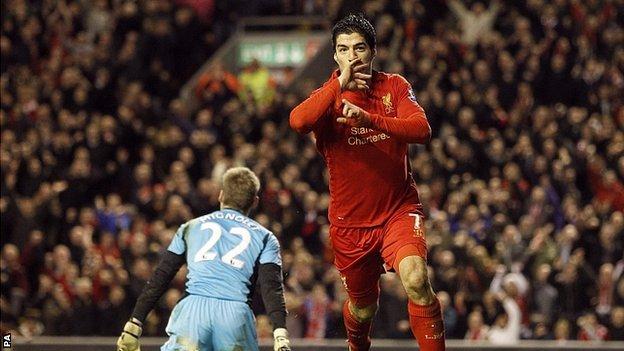 Liverpool manager Brendan Rodgers says top-scorer Luis Suarez may have to change position to accommodate new signing Daniel Sturridge.
Rodgers believes Sturridge's best position is as a central striker and that Suarez can work around him.
"Luis will play for the common good of the team," said Rogers.
"I spoke with Luis on this subject a number of times. When he played at Ajax he played in behind the central striker as a No. 10 in between the lines."
England forward Sturridge, 23, signed for the Reds from Chelsea in a deal thought to be worth £12m on Wednesday.
He scored 13 times in all competitions for Chelsea last season, often operating as a right-winger.
But Rodgers believes his new charge will be most effective down the middle.
"His best position is as a central striker," Rodgers said.
"There is not one way to play 4-3-3. You can have one up and two wingers, a floating nine like Luis Suarez, or you can have one like Daniel Sturridge playing centrally, with two in and around him playing narrow, and full backs bombing on.
"The principles of your game are based on your players."
Uruguay international Suarez, 25, has scored 18 goals in 27 appearances for Liverpool this season operating as a lone striker but Rodgers believes he can be equally effective in other positions.
"This has been the plan for a few months," Rodgers added. "[At Ajax] he also played as a reverse winger from the left side. He wasn't quite out wide, he was tucked in round the corner.
"Wherever he plays he will make the same movements and he will find the space because he is a world-class player. It is not a problem at all.
"It is never a problem having top players so don't talk about problems with players. We need good players."