Ballon d'Or contenders Messi, Ronaldo and Iniesta in profile
By Saj Chowdhury
BBC Sport
Last updated on .From the section Football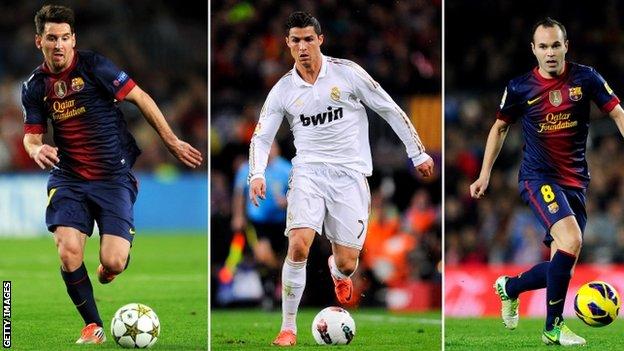 Regarded as the most prestigious individual award in world football, the Fifa Ballon d'Or was created by France Football magazine in 1956 to honour the best European player of the previous calendar year.
In 2010, it was merged with Fifa's World Player of the Year and the award - voted for by journalists, and national coaches and captains - now recognises the best players in world football.
BBC Sport profiles Andres Iniesta, Cristiano Ronaldo and Lionel Messi - the three contenders for the main prize to be awarded in Zurich on Monday.
Primera Liga & Champions League in 2012

Messi

Ronaldo

Iniesta

Games played

50

51

39

Total minutes

4,380

4,541

2,835

Goals

72

53

6

Total shots

205

288

48

On target

139

149

23

Shot conv. rate

35.1%

18.4%

12.5%

Assists

17

11

16

Passes

3,178

1,848

2,667

Passes per game

63.6

36.2

68.4
Statistics provided by Opta
Andres Iniesta - Barcelona and Spain
The 28-year-old midfielder, who came through Barcelona's famed La Masia academy, is one of a select group of players to have won the World Cup, European Championship and Champions League.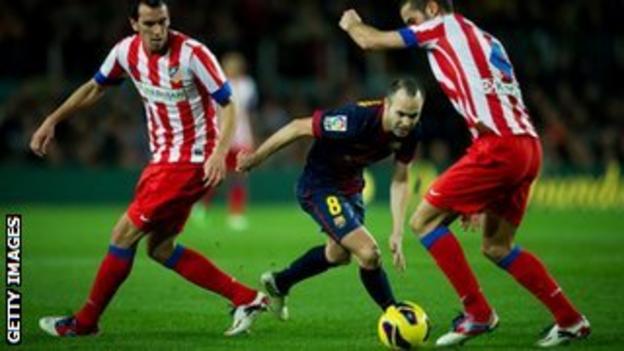 However, he has yet to win this award, coming closest in 2010 when he finished runner-up to club-mate Lionel Messi.
So, how has he earned another place in the top three? Apart from producing moments of brilliance for Barca, he played the leading role as Spain won Euro 2012 to clinch back-to-back European Championship titles.
Iniesta won three man-of-the-match awards during last summer's competition in Poland and Ukraine, and was named Uefa's player of the tournament.
He played fewer games than Messi and Real Madrid's Cristiano Ronaldo at domestic club level, but nonetheless managed to achieve impressive feats.
Iniesta was a key member of the Barcelona team that set a club record for successive home games without defeat - 55. The record came to an end in April 2012 when Barcelona succumbed to eventual champions Real Madrid.
He was also named the best player of the 2011-12 Champions League tournament, which saw his team knocked out at the semi-final stage by Chelsea.
Spain coach Vicente del Bosque: "It's like when Roger Federer plays tennis, he barely sweats. Iniesta appears as if he makes no effort to play."
Spain-based journalist Andy West: "Iniesta is revered throughout Spain - not just by Barcelona fans - for the goal that won the World Cup final in 2010, and he cemented that status last summer with another brilliant series of performances in the Euros.
"He's a stupendous dribbler, a wizard with the ball at his feet - especially when he's wriggling through seemingly non-existent gaps between defenders on the left wing. He was at his magical best in Barca's 4-0 win at Levante in November - he scored one and created the other three."
Lionel Messi - Barcelona and Argentina
Is the 25-year-old the greatest player the world has seen?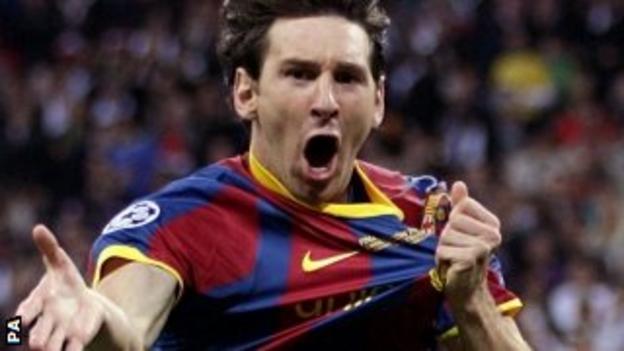 Messi has already won the Ballon d'Or three times - 2009, 2010 and 2011 - and is odds-on favourite to become the first player to win the title a record fourth time.
The Argentine forward is arguably the best dribbler seen in football since compatriot Diego Maradona was at his peak in the 1980s.
But along with Messi's ability to evade and create comes his brilliant scoring record. And in 2012, the football world looked on in disbelief as he broke record after record.
In March, Messi became the first player to score five goals in a Champions League match as Barcelona defeated Bayer Leverkusen 7-1. A hat-trick against Granada, later that month, then saw him claim the club's all-time scoring record.
He scored 14 goals in the 2011-12 Champions League, breaking the record of 12 that he had previously shared with former Manchester United striker Ruud Van Nistelrooy.
In May, Messi broke former Bayern Munich striker Gerd Mueller's mark of 67 goals in a single European season, eventually finishing the 2011-12 campaign with 73.
And in December, the diminutive Argentina captain grabbed his 86th goal of 2012 to surpass Mueller's 40-year-old record of having scored the most goals - in domestic and international games combined - in a calendar year. Messi finished 2012 with 91 goals.
Former Barcelona manager Pep Guardiola: "We will not see another player like Messi."
Spain-based journalist Andy West: "Messi's statistics speak for themselves, but there's far more to his game than goal scoring. He's tremendously selfless - a real team player - and won't shoot if he can see a team-mate in a better position.
"Another of Messi's great qualities is his humility. When he scored the goal that took him past Gerd Mueller's calendar-year record at Betis in December, his spontaneous reaction was to run to Iniesta and thank him for the pass that created the chance. That speaks volumes about his mentality."
Cristiano Ronaldo - Real Madrid and Portugal
The showman came of age in 2012.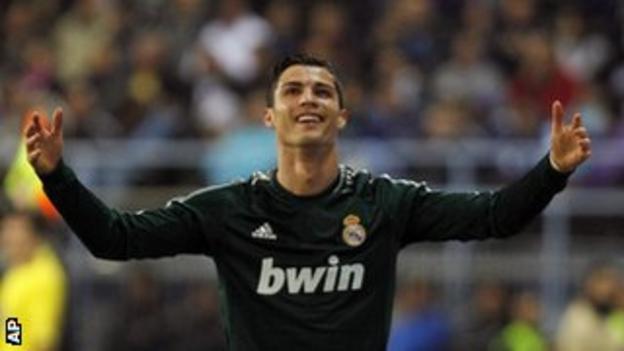 Nearly everything Cristiano Ronaldo touched turned to gold in an unforgettable year for the 27-year-old Portuguese.
Last season, he helped Real Madrid to their first league title since 2008 with goalscoring feats that only his Ballon d'Or rival Messi could match.
Ronaldo scored 46 goals in total for Los Blancos - becoming the only player in La Liga history to score 40 goals or more in a season twice.
The 2008 Ballon d'Or winner finished the 2011-12 campaign with 60 goals in all competitions, including at least one against each of Real's 19 domestic league opponents - the first time that feat had been achieved.
At Euro 2012, he scored three goals and produced some show-stopping performances to help Portugal reach the semi-finals, where they were knocked out by Spain on penalties.
And in October, Ronaldo became the first person to score in six consecutive El Clasicos, as Real drew 2-2 with Barcelona.
Real Madrid manager Jose Mourinho: "If Messi is the best on the planet, Ronaldo is the best in the universe."
Spain-based journalist Andy West: "Ronaldo was the driving force behind Real Madrid's 2011-12 title campaign - his phenomenal blend of power, pace and precision was often virtually unplayable. His crowning glory came at the Nou Camp in April, when he scored the match-winner that effectively sealed the title.
"I'd say Ronaldo is a more mature performer than during his time in England - he's less petulant, less prone to diving and has developed greater consistency. He's now happy to accept added responsibility and is a real leader for both club and country, evidenced by the fact that he captained Real for the first time on Sunday."