FA Cup: Pressure on Arsenal, says Swansea boss Michael Laudrup
Last updated on .From the section Football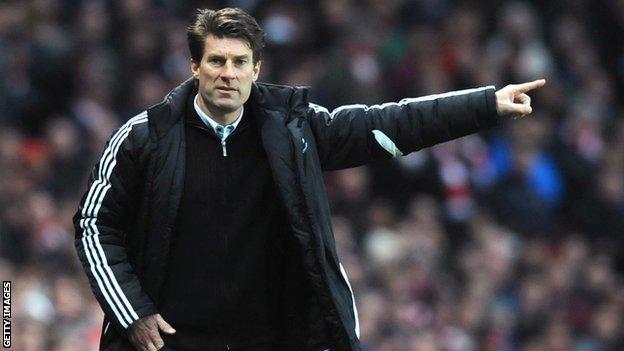 Swansea manager Michael Laudrup says Arsenal's trophy drought means all the pressure is on Arsene Wenger's side when they meet in the FA Cup on Sunday.
in the Premier League in December, contributing to the Gunners' title bid realistically having ended.
Arsenal have not won a major trophy since the 2005 FA Cup.
"There is more pressure at this stage on Arsenal," said Laudrup ahead of the Liberty Stadium clash.
The Gunners also saw their Capital One Cup campaign end in the quarter-finals at at Bradford.
And their fortunes have prompted former Manchester United goalkeeper who have become something of a development club for richer teams.
Laudrup added: "For [Arsenal] when you are a top team you are obliged to at least compete until the end to win things.
"There can only be one winner in all competitions and two teams in a final and they are expected to at least be in the semi-finals.
"Looking from the outside, Arsenal are a big club and big clubs are obliged to play in finals.
"They played a [League Cup] final the year before last and they lost.
"But it is many years since they won a trophy, which is why they will come here with the best team they can put on the pitch and that is what I have to look forward to."
Since arriving in the top flight, Swansea have twice beaten the Gunners, securing a thrilling 3-2 win in January 2012 before triumphing this season.
Swansea also go into Sunday's match at the Liberty Stadium undefeated in their last four encounters.
"Those games mean nothing. This is a new game and it will be a different team we face," Laudrup said.
"The players will be the same but they have changed with Theo Walcott playing as a centre forward and Bacary Sagna is back at right-back, and I expect them to put out their strongest team."