Kevin-Prince Boateng on racist chanting: I'd walk off again
Last updated on .From the section Football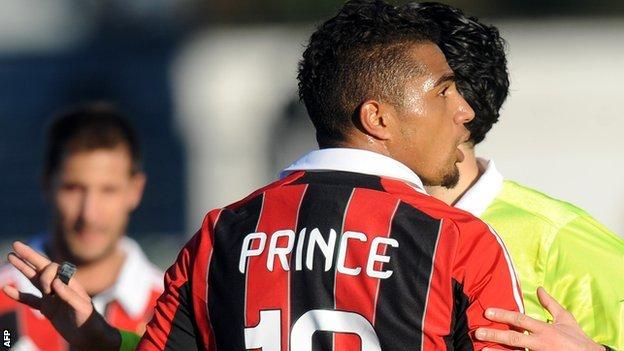 Kevin-Prince Boateng says he would walk off the field again if subjected to racist abuse.
Boateng's AC Milan side after he was subjected to racist chants by fans of Italian lower division club Pro Patria.
In an interview with CNN, Boateng, 25, said: "I don't care what game it is - a friendly, Italian league or Champions League match - I would walk off again."
Milan owner Silvio Berlusconi praised Boateng for his stand against racism.
Berlusconi, the former Italian prime minister, had earlier stated that Milan would take the same stance in any other game, including European matches.
He said in a statement: "I called Kevin-Prince Boateng a little while ago and congratulated him for his reaction against the disgraceful episode of racism that took place in Busto Arsizio.
"I am very happy with Milan's reaction and be assured that in all games where we experience episodes of this kind, Milan will leave the field."
Gordon Taylor, the chief executive of the Professional Footballers' Association, has warned players they could find themselves in trouble if they walk off before the referee decides to abandon a match.
"Racist abuse should be reported to the match officials by the player and team captain, and then the crowd warned," said Taylor. "If the abuse does continue then the officials should abandon the game.
"The warning will also be an opportunity for responsible fans to influence those who are perpetrating the abuse."
Fifa and Uefa, the world and European governing bodies of football, have previously warned against players walking off the field of play.
In Busto Arsizio, a 20-year-old unemployed man was reported to prosecutors for his alleged involvement in the racist chants that caused the friendly to be abandoned.
The man is said to have admitted to being part of a group of fans who directed abuse at the players.
Boateng, the German-born Ghana international who previously played for Portsmouth and Tottenham, has been widely praised for his action, which came in the 26th minute of the friendly.
He said he was grateful for the solidarity he received after leading the walk-off.
"I saw massive support from England and massive players like Rio Ferdinand and Patrick Vieira, and I want to say thank you. I'm sad and angry that I'm the one that has to take action." he said.
Boateng said he complained to the referee three times before he and his team-mates walked off the field.
"I said to [the referee]: 'If it happens again I'm not going to play any more.' The referee said 'don't worry' but I said 'I do worry, it's not very nice'," he said.
"I was angry and I was sad, but it all came together and I said I didn't want to play any more.
"I'm surprised we're still hearing these things in 2013. It's not the first time in my life I've had to hear or see things like this but I'm 25 and don't want to take this any more."
His former team-mate Clarence Seedorf disagreed with Boateng's actions, however.
The former Netherlands international said: "Walking away? Yes, you send a signal. But this has happened more than once and I don't think it really changes all that much.
"We are just empowering that little group with their behaviour to make this mess."
Tony Higgins, the spokesman on anti-racism for Fifpro, the international footballers' union, said that the union "fully understands and supports the actions of Kevin-Prince Boateng and his team-mates".
He added: "The players of Milan sent a clear message: if racism does not stop, then football will.
"We have to draw a line. Kevin-Prince Boateng is also a human being. He is entitled to a working environment free of violence, racism and other forms of discrimination.
"Imagine yourself at work and someone standing right next to you is constantly insulting you in the worst way possible. Would you accept that?"