South African FA president Kirsten Nematandani is reinstated
Last updated on .From the section Football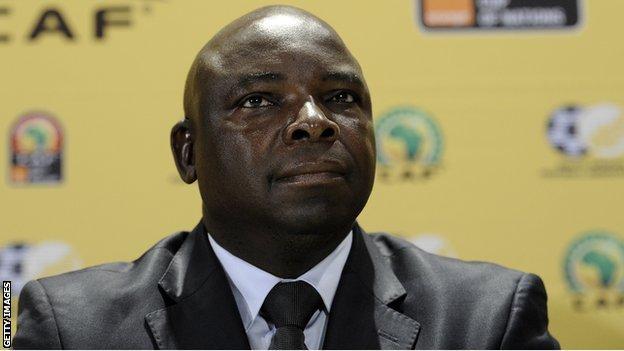 South Africa Football Association president Kirsten Nematandani and four other officials have been reinstated to their posts but not exonerated.
A meeting of Safa's executive committee on Friday decided the emergency committee went beyond on their mandate in suspending the officials.
However the investigations into the original allegations will continue.
The executive committee also felt the officials, including acting CEO Dennis Mumble, had been portrayed as guilty despite the fact the inquiries into match-fixing had not been completed.
Nematandani, Mumble and the others were relieved of their duties in December following a report from Fifa, world football's governing body, about the alleged rigging of four matches in the run-up to the 2010 World Cup.
The Fifa investigation discovered that Safa was infiltrated by convicted Singaporean match-fixer Wilson Perumal and his Football 4U organisation.
Perumal organised referees for the games against Thailand,Bulgaria,Colombia and Guatemala, the outcomes of which were found to have been prearranged to benefit an Asian betting syndicate.
After Friday's meeting, which was also attended by minister of sport Fikile Mbalula, Safa published a statement, outlining how the probe into the allegations would continue.
"Given the significance of the findings of the Fifa investigators, the investigation process that follows must be procedurally fair and sound to ensure firm outcomes," it said.
Nematandani stated: "We are determined to ensure that this report receives the critical attention that it deserves and that anyone found to have transgressed will be fully prosecuted, both in terms of Fifa and Safa codes of conduct, as well as through the criminal justice system, if necessary.
"It is critical that the integrity of the sport must be without question."
The move comes with the Africa Cup of Nations due to kick off in South Africa on 19 January.