SPL proposal for league reform gaining ground, says SFL chief
Last updated on .From the section Football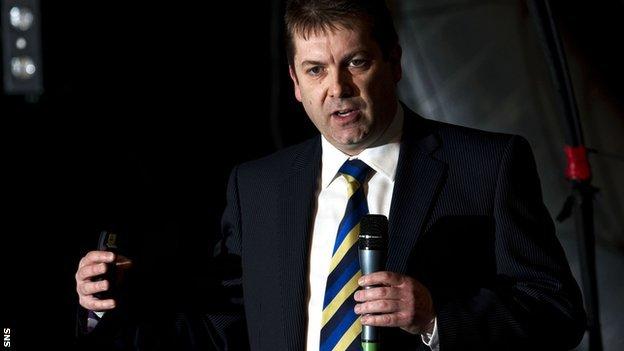 Scottish Football League chief David Longmuir admits the Scottish Premier League's proposed league structure of 12-12-18 may well transpire.
SFL and SPL clubs will meet on Tuesday to continue talks on how best to shape the game, with the SFL previously having pushed for a top flight of 16.
"It looks like the only way we can take it forward," said Longmuir.
"There is no perfect solution. We have an incongruent number and therefore it can't just be nice and symmetrical."
The 30 SFL clubs had voted unanimously on 14 November for a three-league structure of 16-10-16 for season 2014-15, the SPL providing the additional 12 clubs in a new league structure.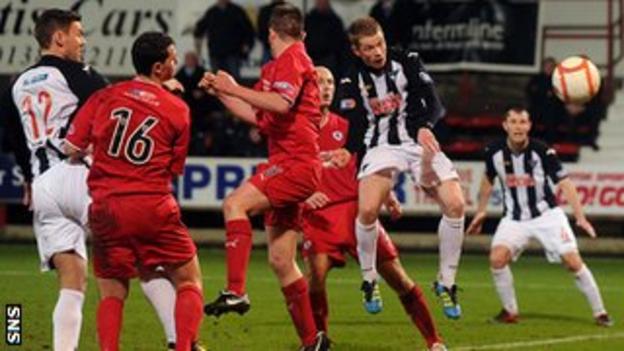 But SFL chief executive Longmuir says the SPL's preferred format featuring 12 sides in the top two divisions is now winning support.
"Scottish football needs to look after 42 professional clubs," he told BBC Radio Scotland.
"If everybody recognises how important the different types of clubs are in Scottish football, then we are on the road to doing something positive.
"It's all about understanding that we all need each other because when players cross the line they need somebody to play against.
"If you look at what happened in the summer with Rangers [placed in Division Three following financial problems], we needed to have a structure in Scottish football that could accommodate every eventuality.
"If we can get the governance aspect right, a structure that is more dynamic, with more play-offs, and a better distribution of the wealth, then we are onto something that will stand us in good stead."
Longmuir revealed that the working group into reconstruction has met three times in the past four weeks and, if all goes well at Hampden on Tuesday, more clubs will be invited to hear the latest plans.
Separately, he highlighted First Division attendances at New Year, the lure of end-of-season play-offs and the number of up-and-coming managers as three strengths of the SFL.
He said: "On 2 January we had the second, fourth and fifth biggest crowds in Scottish football.
"That included the Rangers game, 5,800 turned up at Dunfermline, good crowds are coming back to see Morton and Partick Thistle are doing well."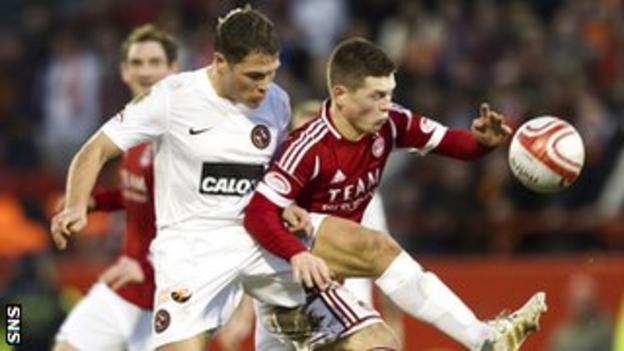 While acknowledging that he did retain doubts about the 12-12-18 format, Longmuir seems to accept that the major flaw of the SFL-favoured 16-10-16 was the drop in income clubs would suffer from fewer home matches.
The SFL looked at revamping its League Cup format to compensate for the lack of games but that looks to have been set aside as SPL clubs, Longmuir claims, come round to the idea of a more even financial distribution.
He argued: "The wealth in Scottish football needs to be more evenly spread so that, when clubs in the SPL drop into the second tier, that drop is not so financially difficult to manage.
"The drop between position 12 and position 13 will be a lot less dramatic than at the moment.
"That's what the SPL clubs have finally realised. They're beginning to come round to understanding that this is the best way forward.
"There has got to be a bit of give and take."
Longmuir says he has "no fears at all about returning to one league body", with the SFL and the SPL potentially being replaced by a single organisation.
"One league body served us well for 100 years until 1998 [the formation of the SPL]," he explained.
"We can make decisions better, have more marketing clout and do more for the game under one roof.
"We can make sure we have a pathway for youngsters to come through the game. There are a lot of positives about one league body and I'm sure the fans would agree with that."
With the Clydesdale Bank's and Irn-Bru's respective sponsorships of the SPL and SFL ending in the summer, there is a pressure for Scottish football's administrators to move speedily.
"There is still a lot of work to go," added Longmuir. "If we can get full agreement then there is no reason why we couldn't make a change before the start of next season."