Tim Vickery column: Scouts head for under-20 championship
Last updated on .From the section Football94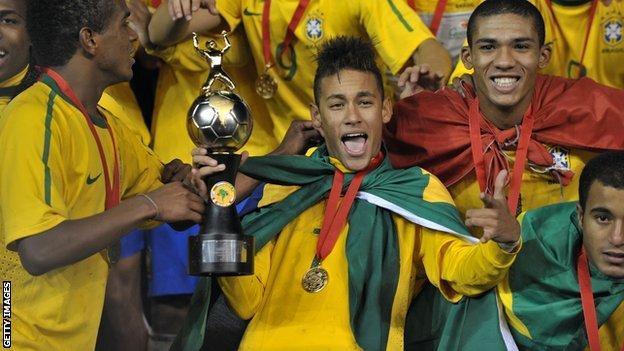 European airports might want to put out a warning: over the next few days, passengers should be prepared for long queues at the check-in desks.
They will have to line up behind an army of scouts from local clubs, making their way to Argentina, where the South American Under-20 Championships get under way this week.
The tournament is taking place in the country's wine-producing region, near the border with Chile. The scouts, though, are more likely to become intoxicated with the quality of talent on show. The South American Under-20s offer a wonderful sneak preview of the stars of tomorrow.
I have been hooked on the tournament ever since 1999, when the likes of Ronaldinho and Roque Santa Cruz made their mark. But the highlight came in 2005, when a then unknown pigeon-toed little figure by the name of Lionel Messi, just 17 at the time, gave an early glimpse of his genius.
The case of Javier Mascherano, his team-mate for club and country, is every bit as interesting. His combination of grit and class stood out in the 2003 version of the competition. At the time he had not played a game for River Plate but Argentina were aware they had something special on their hands.
Less than six months later, still without having made a club appearance, he was given his senior international debut. Just a few months later it was impossible to imagine an Argentina side without him.
This is clearly an extreme case, but it does hint at the huge importance given to the under-20 tournament by the South American national teams. For the major European countries, club form is the overwhelming criteria for international selection.
The South Americans can often take a broader view. After all, it can be hard to compare club form when players are strewn across different leagues on both sides of the Atlantic.
The youngsters are representing their countries, fighting to be continental champions and also to qualify for the World Youth Cup, which this year will be held in Turkey.
The pressure is on and those who perform well may be fast-tracked into the senior squad. I have even seen it happen after promising displays with the under-17s. Some of the players on show in Argentina over the next few weeks could manage to force themselves into contention for next year's World Cup.
So who are the candidates? Between 1995 and 2007, Argentina were the dominant global force at under-20 level. Their last two under-20 sides, however, were poor.
Hopes of a revival are pinned on a group of sleek attacking talent: Ricardo Centurion and Luciano Vietto of Racing Club, Juan Manuel Iturbe, who showed some lovely touches in the last version of this tournament two years ago, playmakers Manuel Lanzini and Alan Ruiz; and Lucas Romero, the latest player from the Velez Sarsfield production line of interesting central midfielders.
Brazil have a wonderful left-footed centre-back in Doria of Botafogo. Fluminense's attacking right-back Wallace joins Chelsea later this year. Quick, skilful and clever, Internacional's left-footed midfielder Fred had a fine debut season in the Brazilian championship.
Santos playmaker Felipe Anderson is highly rated, and another option is Matheus, son of 1994 World Cup-winning striker Bebeto, whose team-mate Mazinho also has a son in the squad, Rafael Alcantara of Barcelona, whose brother Thiago has thrown in his lot with Spain. Talking of Brazil greats from the past, 'the new Careca' is a nickname that has already been given to Botafogo's Bruno Mendes.
Uruguay bring a young squad, much of which has been drawn from the side that reached the semi-finals of the 2011 World Under-17 Cup.
They are bolstered by some interesting more experienced names - Penarol midfielder Sebastian Cristoforo, Nacional's flying left winger Gonzalo Bueno, and Defensor's highly talented support striker Diego Rolan.
I am particularly keen to have a look at Ecuador's midfield, which is packed with players who have just completed fine domestic campaigns. They can count on the combative Eddy Corozo of Emelec, Barcelona of Guayaquil's versatile Carlos Grueso and the skilful wide play of Jonny Uchuari of Liga da Loja.
Especially interesting, though, is Jose Cevallos of LDU, whose father (of the same name) is one of Ecuador's all-time great goalkeepers. The son is an attacking midfielder of huge promise, young enough to take part in the next version of this tournament two years from now.
Colombia, too, have some promising midfielders. The wonderfully creative, left-footed Juan Fernando Quintero has already made his senior international debut and will be expected to organise the team's play, backed up by the all-round skills of Sebastian Perez. Brayan Perea, meanwhile, is a rangy, dynamic striker.
Chile look full of goals with their strike force of target man Nicolas Castillo, goal poacher Diego Rubio and support striker Felipe Mora. Central midfielder Sebastian Martinez, mature beyond his years, should be handed plenty of responsibility - and there is the added interest of Tottenham goalkeeper Lawrence Vigouroux, son of a Chilean mother and an English father.
The financial problems of Peruvian football have meant that several of their youngsters have considerable first-team experience. Dynamic Universitario striker Andy Polo is a huge hope, as is his former team-mate, left winger Edison Flores, now in Spain with Villarreal. Other starlets include Alianza Lima central midfielder Wilder Cartagena and Cesar Vallejo's left-footed attacking midfielder Victor Cedron, while Real Madrid's Cristian Benavente will want to live up to his billing.
Paraguay have two fine players trying to recover from premature moves abroad - Brian Montenegro, who had a spell with West Ham after playing in the previous version of this tournament, and the big, left-footed Rodrigo Alborno, now with Novara in Italy after an unwise move to Inter Milan.
Bolivia, meanwhile, will be built around central midfielder Pedro Azogue, already a senior international, while Venezuela's jet-heeled Josef Martinez has already made an impact in World Cup qualification. Even more than all of the other players on show, he has the right to dream of taking part in Brazil 2014.
Questions on South American football to vickerycolumn@hotmail.com, and I'll pick out a couple for next week.
From last week's postbag:
What do you think of Santos' Argentine pair Walter Montilo and Pato Rodriquez? Sean Dineen
Montillo is a fine playmaker, well adapted to Brazilian football, who should link up well with Neymar. Rodriguez has already been there for a while and, just as in his days in Argentina with Independiente, has yet to show that he can be a consistent match-winner.