Luis Suarez should not confess handball - Brendan Rodgers
Last updated on .From the section Football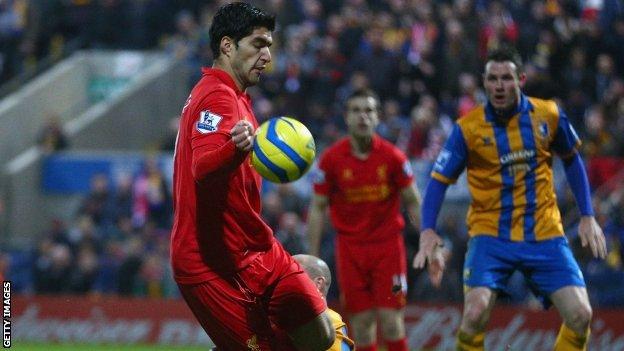 Brendan Rodgers said it was not up to Luis Suarez to admit to handling the ball when he scored Liverpool's second in the 2-1 FA Cup win over Mansfield.
Stags players protested to the officials after the ball struck the substitute's hand and went in.
When asked whether Suarez should have owned up, the Liverpool manager told ESPN: "It's not Luis's job to do that.
"It's not been deliberate as it's pushed up and hit his hand. It's up to the officials to decide that."
The former Swansea boss added: "There's no doubt it was handball, but the referee and the officials ruled it wasn't deliberate.
"I spoke to the fourth official when it was given because I couldn't see and he said it was [handball] so I can only assume they thought it wasn't deliberate.
"So obviously it was unfortunate for Mansfield and lucky for us that we got the goal."
Rodgers was pleased with the performance of new signing Daniel Sturridge, who scored seven minutes into his debut to give the Premier League side the lead.
The 23-year-old, who signed from Chelsea this week, was replaced by fellow forward Suarez early in the second half.
"Danny Sturridge is a goalscorer but he is nowhere near fully fit," said the Anfield manager.
"He will get opportunities, and he is quick and powerful.
"Luis Suarez and Danny Sturridge can play together, there is no problem with that. You want to fit in good players and build a competitive group. We want to bring in players that are multi-functional."
Blue Square Bet Premier side Mansfield went close to scoring through Matt Green, Chris Clements, Anthony Howell and Louis Briscoe before Green finally found the back of the net with 11 minutes of normal time remaining.
They pressed for an equaliser but could not make another breakthrough as Liverpool booked a fourth-round tie at Oldham.
"I'm proud of my boys, I thought they were a different level [during the] second half. I thought we stood off them and let them play in the first half," Stags boss Paul Cox told ESPN.
"We've done well against one of the best teams. We've a lot of positives to take out of it."
Cox also refused to criticise Suarez for the handball.
"I'd like to give the benefit of the doubt and say it was a reaction. He's a goalscorer and I think goalscorers put the ball in the net anyway," he added.
When asked whether he felt cheated, Cox said: "No I don't. For me to come out and say something like that I think would be quite cheap.
"If it had gone in the other end and one of our players had done it I think we'd have accepted it."