Will Hoskins relieved by Brighton & Hove Albion goal
Last updated on .From the section Football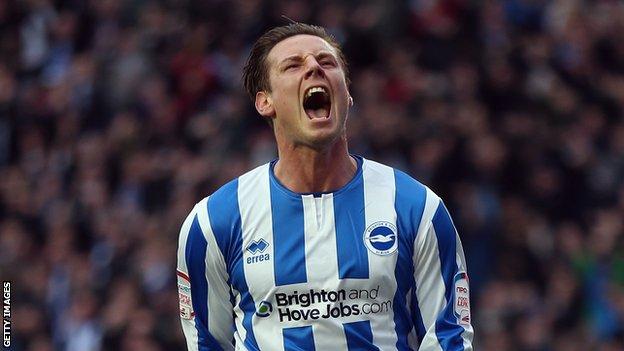 Brighton & Hove Albion striker Will Hoskins admits he is relieved to have scored his first goal of the season.
He told BBC Sussex: "I have been making moves and getting opportunities but not putting them away.
"It wasn't an issue, and then a game goes by and then another and it starts to eat you up a little bit."
The former Rotherham, Watford and Bristol Rovers man has only made 10 appearances this season, with his first coming in November, after breaking his foot in pre-season.
The goal against the Magpies was his first since March, when he was on loan at Sheffield United, and his first in Brighton colours since August 2011.
Hoskins says he hopes he can continue contributing to the team as he seeks to win a contract for next season.
"There have been ups and downs and you have that in football, even if it's not publicised," he added.
"You'll have good games and bad games. This is a positive and I am going to enjoy it, but when we start training again it will be eyes focused on the next game.
"It's all about getting on and doing exactly the same again.
"It will do a lot [for my confidence]. I just want to keep playing now."
Albion will now face a home tie against either Swansea or Arsenal in the fourth round.
"Because it's at home I am happy about it," Brighton manager Gus Poyet told BBC Sussex.
"I said previously I wanted the smallest team [left in the competition] while the players wanted the biggest away from home.
"Without any doubt I'll have to do a bit more homework and watch Swansea and Arsenal a little bit more. I will probably be there when they play the replay."